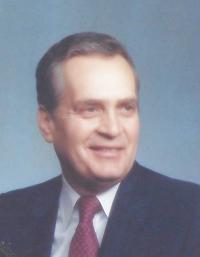 Lieutenant Colonel Burton Duane Jones, U.S. Army retired, of Pleasant Lake, Three Rivers, died on April 27, 2018 at the age of 86, at Bronson Methodist Hospital, Kalamazoo, surrounded by his loving family. Born in Michigan City, Ind., first child of Walter Jones and Loma (Potts) Jones, Burton had three siblings, Maureen (Herman) Kiewiet, Olin Jones deceased 2004, and Jonel Yunker, deceased 2017.
He graduated from Rochester High School, Rochester, Ind., 1949 and received a BS in Chemistry from Western Michigan University, 1954. On April 30, 1955, Burton married Shirley Ann Mitchell, in Wayland, Mich. In June 1955, he entered the US Army Signal Corps, retiring, 1976, during which time he earned an MBA in Computer Science from the University of Arizona, 1964. In 1984, Burton joined Bayer Corporation, Elkhart, and Pittsburgh, Pa., as Manager of Telecommunications Worldwide; retiring again in 2002 to the home he built on Pleasant Lake. Burton is survived by his wife, Shirley and three children: Cynthia Phillip, Jeffery (Shawn) Jones, Julia (Carl) Foura, eight grandchildren and three great grandchildren. Burton loved baseball, boating, wintering in Florida, and driving his red convertible, but most extraordinarily was his unconditional love of family. He was a member of American Legion Post #170, DAV, and WMU's "W" Club.
Cremation has taken place and a graveside service will be held at a later date. Memorial donations may be directed to Disabled American Veterans or the Three Rivers' Sue Silliman Museum, c/o 385 S Washington St, Constantine, MI 49042. Online condolences maybe shared at www.hohnerfh.com.