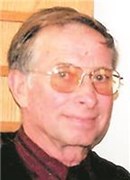 Dennis Dale Mieras, age 84, of Sturgis, passed away early Saturday morning, June 2, 2018 at his home.
He was born Dec. 26, 1933, in Sturgis, a son of the late Harry and Gladys (Wall) Mieras.
Denny was a lifelong Sturgis and Burr Oak area resident and a graduate of Sturgis High School with the class of 1952.
On Dec. 26, 1969, he married Linda Wolfe at First United Methodist Church Kimball Chapel in Sturgis.
Denny owned and operated with Larry Harker, Harker & Mieras Plastering in Sturgis for over 35 years.
He was a member of Pretty Prairie Methodist Church in Howe, Ind., and attended First Baptist Church in Sturgis.
Dennis was proud to have served his country during the Korean War, stationed in Germany earning the rank of PFC.
Denny had a true appreciation for the outdoors. He enjoyed fishing and hunting, especially deer hunting, traveling to the Upper Peninsula of Michigan to deer hunt for many years. He also enjoyed gardening and was a life member of the National Rifle Association. Denny had hobbies and interests, but what he truly loved was time spent with his family, and if that included a fishing or hunting trip, it just made everything even better.
He is survived by his loving and dedicated wife of 48 years, Linda; three sons, Lonnie Mieras and Michael Mieras, both of Sturgis, and Douglas Mieras of Fort Wayne, Ind.; a stepdaughter, Teresa Weitz of Sturgis; seven grandchildren; seven great-grandchildren; two brothers, Don Mieras of Sturgis and David (Jill) Mieras of Ann Arbor; a sister, Janet (Arthur Preston) Danklefsen of Bronson; and several nieces and nephews.
He was preceded in death by his parents; a daughter, Linda Lou Mieras; a son, Danny Lee Mieras; a stepdaughter, Tammie Marie Krontz; a stepson, Rick Krontz; and a sister, Judy Hearl.
The family will receive friends from 2 to 4 p.m. and 6 to 8 p.m. Tuesday at the Rosenberg Chapel of Hackman Family Funeral Homes, 807 E. Chicago Road, Sturgis. Funeral services celebrating the life of Dennis Dale Mieras will be held at 11 a.m. Wednesday at First Baptist Church in Sturgis. The Rev. James Pearson will officiate. A graveside committal will follow the service at Oak Lawn Cemetery in Sturgis. Full military honors will be conferred by Capt. John J. Kelley Post #1355 VFW and the U.S. Army Guard.
The family suggests those wishing to make a memorial donation in Mr. Mieras' memory consider Hospice of Sturgis, P.O. Box 126, Sturgis, MI 49091.
His obituary is also at www.hackmanfamilyfuneralhomes.com, where personal messages of support may be left for the family.