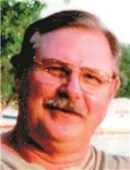 Denny Russell, age 72, passed away on Thursday, May 31, 2018, at his home in South Bend.
Denny was born Sept. 7, 1945, in Battle Creek, to Lester and Glendora Russell, both of whom proceeded him in death, along with a son, Marty.
Denny enjoyed spending time with his family, especially his grandchildren.
On June 11, 1981, he married the love of his life, Janet. She survives, along with sons Kelly (Ginger) of Lapeer, and Todd (Jessica) of Osceola, Ind. Also left to cherish the memory of their Papa, and of all the good times they had together, are his five grandchildren, Erin and Jason Russell, and Brianna, Erica and Emberly Russell. He also is survived by two sisters, Susan (Rex) Terry of Fort Wayne, Ind., and Nancy (Lynn) Houck of Lansing; and many nieces and nephews. Denny was a lifelong engineer in the RV industry. He retired from Paramount Plastics in Elkhart. He was a past member of Colon Lions Club, a former Palmer Lake Board member and a volunteer at Colon Food Pantry. Denny was an avid member of Colon Masonic Lodge #73, where he served as past worshipful master, was Mason of the Year in 2007, District Mason of the Year in 2008 and received his 25-year award in 2010.
Viewing will be from 2 to 4 p.m. and 6 to 8 p.m. Sunday, June 3, at Schipper Funeral Home in Colon, with a Masonic Funeral at 7 p.m. Funeral services will be at 11 a.m. Monday, June 4, at the funeral home. Burial will follow at Matteson Cemetery, Bronson.
If desired, in lieu of flowers, a memorial donation may be made to Colon Masonic Lodge post #73 or a charity of one's choice .