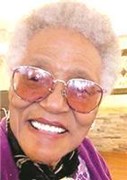 Eddie Mae Webb, age 89, formerly of Sturgis, passed away Sunday, June 17, 2018, at Parkview Hospital in Fort Wayne.
She was born April 18, 1929, in Popular Grove, Ark., a daughter of the late Sam and Sara (Bryant) Pippens.
On Dec. 23, 1948, she married Isaiah Webb in Arkansas. He preceded her in death Feb. 26, 1998, after 50 years of marriage.
Eddie Mae was baptized in 1959 as one of Jehovah's Witnesses in Coldwater and she attended the Kingdom Hall of Jehovah's Witnesses in Sturgis for more than 50 years. She never missed a convention and enjoyed spreading her ministry whereever she could.
Surviving are five children, James (Gretchen) Webb, Kenneth Webb, Delores (Jerry) Walters, Melissa Webb and Brenda (Steve) Pallasch; 12 grandchildren, Gina Johnson, Jeremy Webb, JaNae Burgess, Charity Webb, Taylor Webb, Brooke Webb, Cedric Webb, Elizabeth Webb, Tiffany Webb, Malachi Webb, Michael Walters and Kristen Moore; 27 great-grandchildren; and many nieces and nephews.
She was preceded in death by her parents; her husband; a son, Duane Webb; two brothers, Ivory Barrett and Danny Matthews; and a sister, Alice Lee Harold.
According to her wishes, cremation has taken place.
A memorial service celebrating the life of Eddie Mae Webb will be held at 1:30 p.m. Sunday, June 24, 2018, at Kingdom Hall, 69820 S. Nottawa St., Sturgis.
Her obituary is also at www.hackmanfamilyfuneralhomes.com, where personal messages of support may be left for the family.