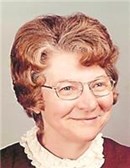 Edith C. Duffield, a former longtime Sturgis resident, teacher and librarian for Sturgis Public Schools at Congress Elementary and Wenzel Elementary schools, passed away on Saturday, June 16, 2018, at Addington Place in Northville.
Edith, a devoted wife, mother, grandmother and great-grandmother, was a longtime school educator and librarian and active community member who truly embodied her beliefs in continual learning and education. In doing so, she provided a powerful inspiration to the many children with whom she had the opportunity to interact during her public school tenure.
Born Oct. 22, 1918, in Indiana, Edith was the eldest of eight children to Ralph E. Culbertson Sr. and Adelia A. (Scarlett) Culbertson.
Carrying her legacy forward is her son Lawrence Duffield (Patricia) of Livonia. She was preceded in death by her husband, Richard; her son Keith; and her daughter Janet Black.
Surviving Edith are six grandchildren, Denise Cowger, Diane Duffield, Ryan Black, Sarah Black, Lauren Duffield and Michael Duffield; and two great-grandchildren, Shyanne Cowger and Harlow Duffield.
In accordance with her wishes, cremation has taken place. Share your stories of remembrance at a memorial service celebrating the life of Edith Duffield at 11 a.m. Saturday, June 30, 2018, at First Presbyterian Church in Sturgis.
In lieu of flowers, the family asks that a contribution be made to Duffield Memorial Fund, c/o Sturgis Area Community Foundation, 310 North Franks Ave., Sturgis, MI 49091. This memorial fund was established for the purpose of providing sports camp awards for Sturgis High School students entering the ninth or 10th grades.
Her obituary is also at www.hackmanfamilyfuneralhomes.com, where personal messages of support may be left for the family.