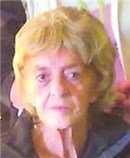 Gloria J. Jordan Gilbo Dunham, age 76, of Sturgis, passed away Wednesday, June 20, 2018, at Thurston Woods Village in Sturgis.
She was born Jan. 19, 1942, in Sturgis, a daughter of the late Carl Henry and Hazel (Randall) Jordan.
Gloria was a lifelong Sturgis resident.
She had been employed as a bartender and waitress at Neuman-Wenzel Post #1355 VFW and Loyal Order of Moose #574, both in Sturgis, and was a homemaker.
Gloria loved the outdoors, especially when she was gardening or fishing.
She is survived by three daughters, Phyllis (Phil) Wolfe of Sturgis, Sharon (Tim) Stone of Sturgis and Lisa Rizk of Colon; numerous grandchildren and great-grandchildren; two sisters, Marilyn (Ron) Ranney of Sturgis and Marsha (David) Taylor of Sturgis; a brother, Dewayne (Shirley) Jordan of Sturgis; and many nieces and nephews.
She was preceded in death by her parents; a son, Keith Jourdan; and a sister and brother in-law, Patricia and Robert Schrader.
In accordance with family wishes, cremation has taken place. Private burial of the ashes will take place at Oak Lawn Cemetery in Sturgis.
The Hackman Chapel of Hackman Family Funeral Homes, 114 S. Nottawa St., Sturgis, is entrusted with arrangements.
In lieu of flowers, the family suggests memorial donations be directed to Alzheimer's Association , 350 E. Michigan Ave., Suite 20, Kalamazoo, MI 49007.
Her obituary is also at www.hackmanfamilyfuneralhomes.com, where personal messages of support may be left for the family.