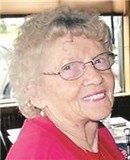 Hazel Janell Markus, age 89, of Sturgis, passed away peacefully Friday, June 15, 2018, with cherished family members by her side.
Hazel was born Sept. 9, 1928, in Grove Hill, Ala., although spent the majority of her younger years in the Mobile area. On Dec. 6, 1952, Hazel married Edward Louis Markus of Colon while Edward was stationed as a staff sergeant at Brookley Field Air Force Base in Mobile, where they met. After Edward's discharge, they settled in Sturgis, where Edward built their home and together they raised five children.
Hazel worked for many years as a nurse's aide at Sturgis Hospital, where she captured the hearts of countless patients under her tender and fun-loving care. She truly lived life to the fullest through simple pleasures such as her fantastic cooking, die-hard Detroit Tigers fan, winning at bingo, doing puzzles while watching "Family Feud" and "Dancing with the Stars" and endless hours of fishing. However, few things lit her inner spirit like singing and clapping to the local Wasepi Bluegrass Gospel Singers playing her favorite gospel songs. She had an uncanny ability to reach people in a positive and caring way and will always be remembered for her kindheartedness and unselfish giving and love, and especially displaying this love for any baby within eyesight.
Hazel is survived by her dear brother, Gordon Vickers Jr. of Andalusia Ala.; her beautiful sister-in-law, Helen Holtz of Sturgis; her son, David Markus and wife, Christine, of Saratoga Calif.; her four daughters, Debra Emerson and husband, Larry, of White Pigeon, Sandy Smoker of Kalamazoo, and Dianne VanTassel and Kathy Garcia, both of Sturgis; and many beautiful grandchildren, great-grandchildren, nieces and nephews, all of whom she loved unconditionally and so dearly.
Hazel was most recently a resident of The Villa at Thurston Woods in Sturgis, where the employees and residents she embraced as family. Family, friends and others whose lives were touched by Hazel are invited to share in her memory from 4 to 8 p.m. Monday at Schipper Funeral Home in Colon. A service will be held at 11 a.m. Tuesday at the funeral home. Afterward, she will be laid to rest next to her loving husband, Edward, at Colon Lakeside Cemetery. A celebration of Hazel's life will be planned for later in the summer.
Donations in Hazel's memory may be made to St. Joseph County Humane Society or Michigan Epilepsy Foundation.