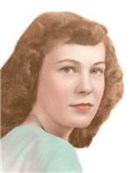 Jocelyn J. Baldwin, age 88, of Sturgis, passed away Saturday afternoon June 9, 2018, at Aspen Ridge Assisted Living in Gaylord.
She was born Dec. 31, 1929, in Battle Creek, a daughter of the late John and Blendina (Cummings) Gest.
Jo resided in Sturgis since 1949 and also had lived in the White Pigeon and Burr Oak areas and graduated from Burr Oak High School with the class of 1948.
On June 6, 1948, she married Bruce E. "Bud" Baldwin in LaGrange County, Ind. He preceded her in death July 15, 1999.
Jo retired in 1990 from Kirsch Company in Sturgis following 15 years of dedicated employment. She also had worked at Continental Can Company in Three Rivers.
She enjoyed working in her yard, playing cards with her siblings, sewing, reading and animals, especially her dogs, Wiser and Molly, and her cats, Stinker, Nelly and Zella.
Surviving are two daughters, Ann (Mike) Ray of Lake Ann and Christina (Mike Bender) Baldwin of Sturgis; a son, David Baldwin of Sturgis; eight grandchildren, Jennifer Olson, Jamie (Brian) Wiard, Jill Schmidt, Bryan (Angela) Ray, Kevin (Dawn) Ray, Lyndy (Tim) Kupferer, Cassandra Lee (Sam) Hambright and Jocelyn (Allen) Hunt; 19 great-grandchildren, Taylor Ray, Kaylee Ray, Delany Ray, Chandler Ray, Daylan Ray, Hunter Olson, Payton Olson, Avery Olson, Chase Olson, Logan Wiard, Kirsten Wiard, Drew Schmidt, Anna Schmidt, Devon Beller, Kaitlyn Hook, Cayla Kupferer, Conner Kupferer, Wyatt Hambright and Sadie Hambright; two step-grandchildren; four step-great-grandchildren; a brother, Lynn (Gloria) Gest; a sister, Shirley (Harold) Arensdorf; and many nieces, nephews and cousins.
She was preceded in death by her parents; her husband; and four sisters, Roberta Miller, Sandra Coker, Doniue Gest and Jacqualyn Bower.
A graveside service celebrating the life of Jocelyn J. Baldwin will be held at 1 p.m. Monday, June 18, 2018, at Oak Lawn Cemetery in Sturgis, with the Rev. Jeanne Garza of First United Methodist Church officiating.
Memorial donations may be directed to American Heart Association ; American Cancer Society ; or Hospice of Michigan, 145 N. State Ave., Alpena, MI 49707.
Envelopes are available at the Hackman Family Funeral Homes, 114 S. Nottawa St., Sturgis, which has been entrusted with the arrangements.
Her obituary is also at www.hackmanfamilyfuneralhomes.com, where personal messages of support may be left for the family.