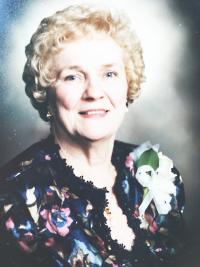 Joyce (Rockwell) Sucaet, long-time resident of Warren, Michigan, passed away on Sunday, June 24, 2018 at the age of 92.  Joyce was born in Three Rivers and raised on a farm.
At age 16, she contracted polio and dealt with the effects for the rest of her life.  She achieved her goal by attaining her degree in education at Michigan State University.  In addition to her family, she was fully enriched by her long teaching profession.  Her other passions included singing, flowers, pets, a 46-year membership in Alpha Delta Kappa, and watching Jeopardy!
Joyce is survived by her sister Ada Follis of Portage, and is the cherished mother of Joyce Ann (Randy) Workman of Hanson, Ky., Janet (Alan) Hall of Franklin, Tenn., Julia (Douglas) Brinkman of Warren, and Jacqueline (Nick) Batsikouras of Sterling Hts., Mich., treasured grandmother of Corey, Eric, Steven, Juliane, Alex, Wyatt, and Oliver and great-grandmother to Ian, David and Catherine.  She was also loved by many nieces, nephews and friends.  Joyce was preceded in death by her husband, Joseph Sucaet and her beloved son, Joseph Sucaet Jr.
Visitation with the family will be from 3 to 9 p.m. on Wednesday, June 27 at Temrowski Funeral Home, 30009 Hoover Rd, Warren, MI with a celebratory mass at St. Mary, Our Lady Queen of Families – St. Clement site at 10 a.m. on Thursday, June 28.  Memorial donations can be made to her Educator's Sorority, Alpha Delta Kappa – Beta Mu chapter at 2831 Saratoga, Troy, MI, 48083 or the US Olympic team at Donate.TeamUSA.org.