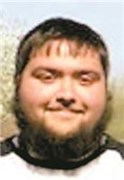 Kyle Jeffery Poley, age 21, of Sturgis, passed away Wednesday, June 20, 2018, at his home.
He was born July 19, 1996, in Sturgis, a son of Roger and Martha (Andaverde) Poley Jr.
Kyle resided in Sturgis for the past five years, coming from White Pigeon, where he lived most of his life. He was a graduate of White Pigeon High School with the class or 2015.
He was currently employed by Therma-Tru Corporation in Howe, Ind., and also had worked at Pizza Hut in Sturgis.
Kyle was always ready to give of his time to children and each child who met him nearly immediately fell in love with him. He enjoyed gaming and loved time hanging out with family and friends.
He is survived by his parents, Roger and Regina Poley Jr. of White Pigeon and Martha "Bee" Poley of Sturgis; a brother, Dylan (Shelby) Poley, stationed at Fort Hood in Killeen, Texas, with the U.S. Army; grandparents Roger Poley Sr. of Hillsdale, Jim and Marilyn Broadridge of White Pigeon and Leo and Nico Andaverde of Sturgis; a stepsister, Holly (Joshua) Banks of Elkhart; a stepbrother, Jesse Escamilla of Mishawaka; expecting his first nephew, Mateo Jaxon Poley, in August 2018; and four nieces, Cassidy, Cheyenne, Carrington and Carleigh.
In accordance with family wishes, cremation has taken place. The family will receive friends from 3 to 4 p.m. Sunday at the Rosenberg Chapel of Hackman Family Funeral Homes, 807 E. Chicago Road, Sturgis. A memorial service celebrating and honoring the life of Kyle J. Poley will begin at 4 p.m. Sunday at the funeral home.
Memorial donations to the family would be appreciated, and will be given to a charitable organization to be determined.
His obituary is also at www.hackmanfamilyfuneralhomes.com, where personal messages of support may be left for the family.