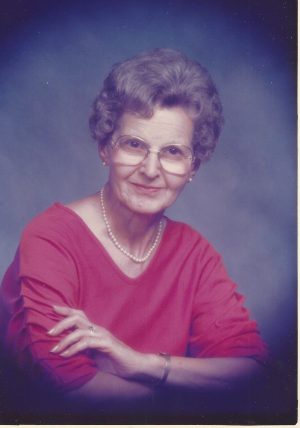 Margaret E. Ritchie, age 97, of Marcellus, passed away late at night on Saturday, June 9, 2018.      
     Margaret was born May 27, 1921, the daughter of Willard J. Griner and Gleola Bent on the family farm in Marcellus. 
     

On February 10, 1943, she married her late husband Merle L. Ritchie of Marcellus.  Together they had two children, one daughter: Mary Lou Ritchie (special friend Thomas Predum), and one son: Dale (Susan) Ritchie who survive. Also surviving are one sister: Lois Tase of Three Rivers, one brother: Howard Griner of Marcellus, one grandchild Heather Newman of Indiana, four great-grandchildren Eric (Hannah) Rieth of Portage, Morgan, Madison, & Mariah Mansfield of Indiana, many nieces and nephews, and many great nieces and nephews.
    

Margaret worked at Ingersoll's Drug Store as a clerk for 46 years. She was the oldest living member of the Marcellus class of 1939. She was also a Life Member of O.E.S. #167. Margaret spent a lot of time, in her later years, with her grand dog companion "Lady" whom she enjoyed feeding her the occasional cookie.
    

Margaret was preceded in death by her beloved husband Merle L. Ritchie, one sister: Marian Kipker, one brother: Rolland Griner, and her parents. 
    

The family will welcome friends for a visitation service on

Wednesday, June 13, 2018 from 4:00 to 6:00 pm

and funeral service will be on

Thursday, June 14

,
2018 at

1:00 pm

at Mater-Ralston Funeral Home of Marcellus. Internment at Marcellus Bly Cemetery to follow. Memorials may be directed to Three Rivers Hospice and Marcellus Ambulance Services. Online condolences may be left at www.materralstonfuneralhome. com