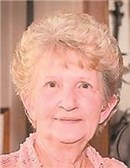 Marylou (Nelson) Sears, age 74, beloved wife, daughter, sister, mother, grandmother and great-grandmother, died peacefully on Tuesday, June 12, 2018, at Bronson Methodist Hospital in Kalamazoo, surrounded by her family.
She was born Nov. 29, 1943, in Sturgis, a daughter of the late Irvin F. and Doris M. (Bunnell) Nelson.
Marylou graduated from Sturgis High School with the class of 1962 and furthered her education, becoming a licensed home health care nurse, a job she truly loved.
On Jan. 27, 1962, she married Jack L. Sears Sr. in White Pigeon.
She is a mother of three beautiful children: a surviving son, Jack L. Sears Jr., deceased daughter, Cynthia (Sears) Brundige, and deceased son, Matthew S. Sears. She also was preceded in death by her parents; a grandchild; and two great-grandchildren.
Additional surviving family members are her husband, Jack; six grandchildren; three great-grandchildren; a brother, Irvin G. (Linda) Nelson of Burr Oak; and a sister, Kathy (Rich) Yeckley of Sturgis.
Marylou was a self-taught artist and left her family and friends with many paintings and handmade gifts of art. These items will forever be cherished by her family and friends. She found her faith late in life, but she was a testament to the Lord in weathering many storms, and encourager of many who lost their children. A tragic loss to Marylou were her two children, one grandchild and two great-grandchildren.
According to her wishes, cremation has taken place. A private memorial graveside service and burial will take place at Burr Oak Cemetery, with Richard Yeckley, her brother-in-law, officiating.
Memorial donations in her memory may be directed to Hackman Family Funeral Homes, P.O. Box 9, Sturgis, MI 49091, which has been entrusted with the arrangements.
Her obituary is also at www.hackmanfamilyfuneralhomes.com, where personal messages of support may be left for the family.