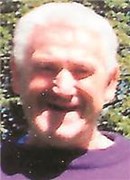 Orin Brown, age 86, of Sturgis, passed away May 8, 2018 at Fairview Nursing and Rehabilitation Community in Centreville.
He was born Feb. 8, 1932, in Sturgis, a son of the late Anson R. and Sylvia V. (Sutton) Brown.
Orin had been a resident of Sturgis most of his life and enjoyed fishing, church services and singing, watching TV, especially "Bonanza" and "The Andy Griffith Show," crafts and visiting with family and friends.
Surviving are five sisters, Celia Ann "Sally" (Bill) Jones of Bronson, and Patricia Lou Merriman, Margaret Joan Bellaire, Berta Belle Miller and Joanne Ellen Bauman all of Sturgis.
He was preceded in death by his parents; and siblings Doris M. Boocher, Alice M. Brock, Anson Brown Jr., Beatrice Brown, William Brown, Clayton Brown and Beulah Sperry.
Cremation has taken place. A memorial service celebrating the life of Orin Brown will be held at a later date, to be announced.
Hackman Family Funeral Homes of Sturgis has been entrusted with arrangements.