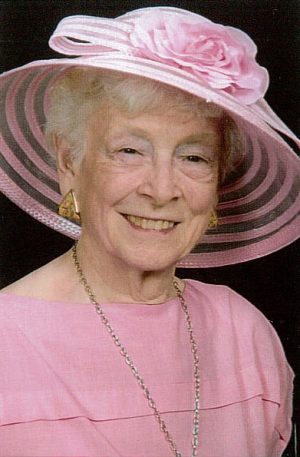 Phyllis M. Jungjohan, age 86, of Mendon, died Tuesday, May 29, 2018 at her son's home in Milton, Florida following a long illness. She was born in Three Rivers on Nov. 9, 1931 the daughter of Ray and Ruby (Draime) Anderson. She graduated from Vicksburg High School and Wright's Beauty Academy in Battle Creek. She was the proprietor of Phyllis' Beauty Shop in downtown Mendon for over 29 years.
Phyllis was an active member of the West Mendon United Methodist Church, now known as the West Mendon Community Church; the Mendon Women's Club; the Order of Eastern Star Chapter 154; served as Trustee for the Mendon Carnegie Library; and member of the Friends of the Library. She loved to cook for family gatherings. She enjoyed travel, gardening, chocolate, and large fancy hats. She was married to Kenneth Leroy Jungjohan on July 15, 1950, and they resided near Mendon until Kenneth's passing in 2014.
Phyllis is survived by three sons, William (Lana) Jungjohan of Mottville, Gordon (Denise) Jungjohan of Destrehan, LA, and Kenneth Jr. (Liza) Jungjohan of Milton, FL; eight grandchildren, John (Ashley) Jungjohan, of Kalamazoo, Michele (Chris) Ballard of Mottville, David Phelps of Washington, Jay Phelps of Union Grove, AL, Cody Jungjohan of North Carolina, Lily Jungjohan of Destrehan, LA, Leslie Jungjohan of Miami, FL, Karina Jungjohan of Morgantown, WV; eleven great-grandchildren, Rachel Ballard, Samantha Ballard, Sarah Jungjohan, Emily Jungjohan, Anya Rivera, Dustin (Amber) Phelps, Corey Phelps, Chelsea Phelps, Nathanial Jungjohan, Jeremiah Jungjohan and Vera Grey; great-great-grandchildren, Penelope Paige Phelps, Kainen Phelps, and Aurora Jane Phelps; brothers, Ralph (Betty) Anderson and Martin (Diane) Anderson; sister in law, Laverna Anderson; brother in law, Jerry Crabtree; many nieces, nephews, and cousins.
She was preceded in death by her parents; her husband, Kenneth; daughter and son in law, Linda (Gary) Phelps; siblings, Arthur Anderson, Janet Crabtree, Joan (Garold) Conine, and Ruth Ann Manion.
The family will receive friends from 5 to 7 PM Wednesday, June 13, 2018 at the Eickhoff Funeral Home in Mendon followed by an Eastern Star ceremony at 7 PM. Funeral services will be at 11 AM Thursday, June 14, 2018 at the West Mendon Community Church. Cremation will follow services with a private interment later in Mendon Cemetery. It is suggested that memorials be directed to either Heartland Hospice, the West Mendon Community Church, or to the Mendon Food Cupboard. Condolences may be expressed to the family online at www.eickhofffuneralhome.com