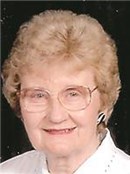 Phyllis E. (Squire) Littman, age 91, of Sturgis, passed away peacefully at her home, on Saturday, June 23, 2018. She is now absent from her body but present with the Lord.
A devoted wife, mother, grandmother, and great grandmother, she was born July 21, 1926, the daughter of Ben and Hazel (Bassett) Squire. She graduated from Sturgis High School in 1943. On Oct. 15, 1945, she married Paul J. Littman at Immanuel Lutheran Church in Valparaiso, Ind. They started their married life in Hammond, Ind., and had two children, Timothy J. and Sharon K. They then moved back to Sturgis, where she was a stay-at-home mom until the kids were older. She then joined Paul in the family business, Paul Littman Agency, as a licensed agent. Their son Tim joined them after he graduated from high school.
After 51 years of marriage, Paul passed away while they were at their winter home in Florida. She continued working at the agency into her 80s, spending several months during the winter at her home in Winter Haven, Fla. She was a member of Trinity Lutheran Church in Sturgis, where she and Paul led Walther League, a group for teens. She enjoyed teaching second grade Sunday School, was a member of Ladies Aide, LWML, choir and singing solos, especially Sandy Patti songs. She was also a member of Sturgis Woman's Club and enjoyed monthly luncheons with members of her high school class of 1943. While in Florida, she and Paul attended Messiah Lutheran Church in Lakeland, Fla., where she sang in the choir and occasionally did solos. She also was a member of a women's group called "Sassy Singers" that gave performances around the area throughout the winter. After Paul died, she became a member of Vineyard Church (Celebration Church), where she sang on the praise team.
Her greatest joy was having all of the family together at her home at the lake and had many great memories of all the family get-togethers.
She was preceded in death by her parents; her husband, Paul; a brother and sister-in-law, Miles B. and Jean Squire; a sister, Martha (Cutler) Myers; and nephews John "Jack" Prohl and William Squire (Spike) Cutler.
Surviving are a son, Timothy J. (Tamara) Littman; a daughter, Sharon K. (Mark) Roberts; five grandchildren, Tisha (J.R.) Farr, Tiffany (Brian) Nickell, Amy (Aaron) Morris, Julie (Josh) Kerns and Scott (Alisha) Roberts; 11 great-grandchildren; nephews Greg Squire, Karl (Mary) Littman and Ron (Darlene) Littman; and nieces Kris Whitesell, Wendy (Len) Brusso and Chris (Jerry) Bell.
The family will receive friends from 3 to 7 p.m. Friday at the Rosenberg Chapel of Hackman Family Funeral Homes, 807 E. Chicago Road, Sturgis. Funeral services celebrating the life of Phyllis E. Littman will be held at 11 a.m. Saturday at the funeral home. The Rev. Barry Sommerfield of Vineyard Church of Sturgis will officiate. A graveside committal will follow the service at Oak Lawn Cemetery in Sturgis.
In lieu of flowers, the family suggests those wishing to make a memorial donation in Mrs. Littman's memory consider Camp Fort Hill, c/o Sturgis Area Foundation, 310 N. Franks Ave., Sturgis, MI 49091; Vineyard Church, 211 N. Nottawa St., Sturgis, MI 49091; or the charity of one's choice .
Her obituary is also at www.hackmanfamilyfuneralhomes.com, where personal messages of support may be left for the family.