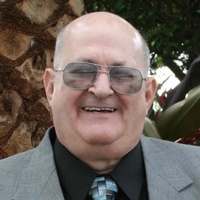 David M. Eby, age 80, of Coloma, formerly of Baldwin, passed into the arms of his Heavenly Father Friday, July 20, 2018 at his residence in the comfort of his family's presence.
He was born March 23, 1938 to Mahlon and Hope Eby. He married Patricia Jean Longcor February 1, 1959 in Porter Township, Michigan.  She survives.
David graduated from Constantine High School in 1955 and Western Michigan University in 1959. He was a band director at Anchor Bay High School in New Baltimore, Michigan; and Baldwin Community Schools in Baldwin, Michigan, from 1964 until retirement in 1992.  He started the Baldwin Marching Bands, a.k.a. the Alley Kats, Alley Kittens, and Super Cats who performed at many parades each summer.  He took the high school band to Vienna, Austria in 1973 and 1979, and Washington D.C. in 1980.  He, his son, grandson, and many of his students also performed with the Scottville Clown Band for many years; many are still performing with them.
David and Pat spent winters in Melbourne, Florida. While there, he taught home-schooled children music and music theory.  David was very involved in church as Lay Minister and Sunday school teacher, the Gideons, and jail ministry with Forgotten Man Ministries.  David also organized the CB3 (Chase Barton Trio) and the Brohman Gospel Brass who performed all over the state.  He was also a range officer for Lake County Sheriff Department.  He was also active in the Big Brother program in Lake County.
David will be greatly missed by family and friends.  He is survived by his wife of fifty-nine years, Patricia Eby of Coloma; one daughter, Pamela (Terry) McCoy of Coloma; one son, Douglas (Kimberley) Eby of Constantine; six grandchildren, Joshua (Ashley) Eby of Constantine, Michael Eby of Baldwin, Danielle (Trevin) Oswald of Constantine, Timothy (Veronica) Eby of Portage, Amanda (Joe) Weberling of Houston, Texas, Justin (Emily) McCoy of Paw Paw; three great grandchildren, Alexander Eby, Emerson Eby, and Mahlon Weberling; and a host of nieces, nephews, and cousins.
He was preceded in death by his parents and sister Janiece Wilson.
Family and friends will gather Monday, July 23, 2018 from 5:00 p.m. to 7:00 p.m. in Connelly Chapel Wagner Family Funerals, 202 North Broadway Street, Cassopolis. A funeral service will take place Tuesday, July 24, 2018 at 12:00 p.m. also at the funeral home, with Pastor Mark Manning  officiating.
Mr. Eby will be laid to rest in Plum Grove Cemetery in Union, Michigan.
The family prefers contributions in David's memory be made to The Gideons (www.gideons.org), Caring Circle Hospice (www.lakelandhealth.org/caring-circle) or the Scottville Clown Band (www.scottvilleclownband.com).
Arrangements have been entrusted to Connelly Chapel Wagner Family Funerals, Cassopolis.