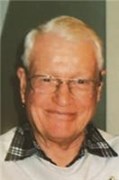 Richard (Dick) Forrest Kirby, age 90, deeply loved husband, father and grandfather, of Oak Park Heights, Minn., and formerly of Sturgis, passed on Tuesday, July 17, 2018.
He was preceded in death by his wife, Jean L. Kirby; his mother, Bernice A. Kirby; and his father, Everett L. Kirby.
Dick is survived by children Scott (Mary), Kimberly (Steven Belzer) and Steven (Carolyn). He also is survived by four grandchildren Todd (Alishia), Mitchell, Jane and Kory.
Dick was born Jan. 15, 1928, in Sturgis and attended Sturgis High School, where he played basketball and was a drummer in the band.
He proudly served in the U.S. Navy from 1946-1950. Dick worked in sales for Weyerhaeuser, was CEO of Warner True Value Hardware and was GM of General Paint and Chemical Division of Cotter and Company.
He enjoyed retirement with his beloved wife, Jean, at his cabin in Northwestern Wisconsin and home in Naples, Fla. Dick lived his life through his Christian faith and love for his family. He was a proud veteran. He loved spending time with his children and grandchildren. Dick enjoyed hunting, fishing, golf, tennis, listening to jazz and doing home projects. He and Jean loved getting together with lifelong friends from Sturgis, Bloomington, Minn., and their retirement community at Boutwells Landing. Dick will be missed for his gentle smile, sense of humor, kindness and caring way. Our family will be forever grateful for the support and kindness the Boutwell Landing and Lakeview Hospice teams provided to Dick during the later stages of his life.
Funeral services celebrating the life of Richard "Dick" Kirby will be held at 11 a.m. Tuesday, July 24, at First United Methodist Church in Sturgis. The Rev. Jeanne Garza will officiate. Interment will follow at Oak Lawn Cemetery, where full military honors will be conferred by Capt. John J. Kelley Post #1355 VFW and the U.S. Navy Honor Guard.
Hackman Chapel of Hackman Family Funeral Homes of Sturgis is entrusted with local arrangements.
In lieu of flowers, please send memorials to Navy Historical Foundation (www.navyhistory.org/contribute/donate-now/) or Sturgis Area Community Foundation, re: Depot and Museum Preservation Fund, 310 N. Franks Ave., Sturgis, MI 49091 (www.sturgismuseum.org/membership.php)
His obituary is also at www.hackmanfamilyfuneralhomes.com, where personal messages of support may be left for the family.