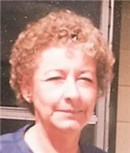 Dolores A. Bertrand, age 83, of Colon, passed away Monday, July 23, 2018, at Promedica Coldwater Regional Hospital, surrounded by her family.
Dolores was born May 15, 1935, in Portland, Ore., a daughter of the late Archie and Ruby (Currier) Eddy.
On Sept. 29, 1954, she married Delos Bertrand of Battle Creek.
Dolores was an avid member of Colon American Legion Women's Auxiliary.
She is survived by her two sons, Rexford Bertrand of Colon and Jacob (Laure) Bertrand of Bronson; grandchildren Lacy (Jamie) Thaxton, Elishia Arver and fiancé Chad Bell, Ericia (Mike) Whelan, Chad (Amber LaClair) Bernheisel, Brian Binkley, Tara (Brian) Owens, Jake Bertrand, Heather Bertrand, Adam Bertrand, Becky Binkley, Jessica Dunkel and Jeffery Binkley; and 14 great-grandchildren.
She was proceeded in death by her husband, Delos Bertrand; and two daughters, Julie Dunkel and Kim Binkley.
Cremation has taken place. A celebration of life will be held from 11 a.m. to 2 p.m. on Friday, July 27, 2018, at Colon American Legion. The family was assisted by Schipper Funeral Home in Colon.