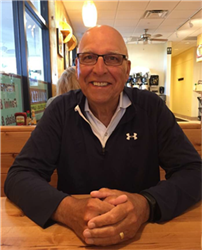 Gerald "Gary" C. Ford, a resident of Traverse City, died on July 10, 2018 after a valiant battle with Idiopathic Pulmonary Fibrosis. His firm belief in God, as well as the love and support from his family and friends, ultimately gave him peace.
Gary never reached his goal of receiving a lung transplant and hoped everyone would consider becoming an organ donor.
Gary is survived by his loving wife, Diane; two children Stephanie and Brian (Christina); three grandchildren, Blake, Brandon, and Brielle. He is also survived by his father; Charles Ford, brother, Randy (Vicki) Ford; sister, Barbara (Kevin) Hysell; several nieces, nephews and family he dearly loved. He was preceded in death by his mother, Maxine Ford; brother, Robert Ford and sister, Nancy Ford.
Gary is a veteran of the Vietnam War, where he was a Navy Seabees in Danang, Vietnam.
He grew up on the family farm near Pine Lake between Plainwell and Delton and attended Delton High School, where he starred in football, basketball and track.
He attended Western Michigan University, where he earned his Bachelor of Science degree in Physical Education with a minor in Business. Later, he achieved his MA from WMU in Educational Leadership.
Gary started his career in education in 1971 as an Elementary and Secondary PE teacher. While an educator, he taught Middle School Earth Science, coached varsity football, was a High School Assistant Principal and an Athletic Director.
In 1980, Gary retired from education and joined the business world to work for Armstrong International in Three Rivers, MI. There, he worked in Sales and was a Director of Training for Representatives and Customer Training Programs. He enjoyed his various roles and built many relationships worldwide as Manager of National Partnerships for the Corporation. He retired from Armstrong in 2011.
Throughout the years, Gary was involved in the Rotary, Lions Club, Athletic Boosters, United Way, Emergency Care Network Board, County School Board, Special Olympics, Chamber of Commerce, Riverside Health Clinic Board of Directors, and was a Sports Announcer for Centerville and Three Rivers High School.
After residing in Southwest Michigan for all of their lives, Gary and his wife, Diane, built their dream home in Traverse City, MI and enjoyed spending their retired winters in Naples, Florida with their "extended family" and friends. Gary was passionate about inspiring others, lending a hand, dancing, announcing ballgames and watching his children and grandchildren play sports. He enjoyed reading, golf, fishing, lake life, as well as collecting Petoskey stones, beach glass, shells and rocks in the shape of hearts for his beautiful wife. He loved cheering on his favorite teams especially the Wolverines and Broncos. No matter where he was or what he was doing, his smile would light up a room.
Services will be held at 1:00 on Monday, July 30th 2018 at Fort Custer National Cemetery, 15501 Dickman Rd, Augusta, MI 49012. In lieu of flowers, the family kindly requests donations be directed to the Richard DeVos Heart and Lung Transplant Program or the Pulmonary Fibrosis Foundation. Envelopes will also be available and may be sent to Hohner Funeral Home in care of arrangements. Online condolences may be shared at www.hohnerfh.com.