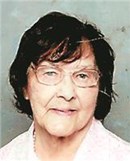 Genevieve Catherine Cadman, age 95, of Burr Oak, passed away Sunday afternoon, July 1, 2018, at her home.
She was born Nov. 24, 1922, in Allegan, a daughter of the late Peter and Julia (Francisco) Blaskie.
Mrs. Cadman resided in Burr Oak since 1966. Her early life was lived in Bronson.
She married William L. Cadman in Hot Springs, Ark. He died April 8, 1998.
Mrs. Cadman was employed in the offices of Bronson Reel Company for 18 years.
She was a member of St. Mary's Assumption Catholic Church in Bronson.
Genevieve loved time spent with her family. While her children were growing up, she was always willing to give of her time, attending the many activities and volunteering to help in any way possible.
She is survived by two sons, William Robert (Debbie) Cadman of Fenton and James Cadman of Goshen; three grandchildren, Gregory Cadman, Max Cadman and Julie (Keith) Hankins; a brother, Leon Blaskie of Texas; two sisters, Theresa Grossman of Burr Oak and Angie Tierney of Elkhart; and many nieces and nephews.
She was preceded in death by her parents; her husband; a sister, Gertrude Blaskie; and four brothers, Ted, Ray, her twin brother, John, and Jim Blaskie.
The family will receive friends from 2 to 6 p.m. Sunday at the Hackman Chapel of Hackman Family Funeral Homes, 114 S. Nottawa St., Sturgis. The Most Holy Rosary of the Blessed Virgin Mary will be prayed at 5:30 p.m. Sunday at the funeral home. A funeral Mass celebrating the life of Genevieve Catherine Cadman will be held at 10 a.m. Monday at St. Mary's Assumption Catholic Church in Bronson. Fathers Rajain Mathias and Paul Redmond will officiate. A graveside committal will follow at Oak Lawn Cemetery in Sturgis.
The family suggests those wishing to make a memorial donation in Mrs. Cadman's memory consider St. Mary's Assumption Catholic Church, 602 W. Chicago St., Bronson, MI 49028.
Her obituary is also at www.hackmanfamilyfuneralhomes.com, where personal messages of support may be left for the family.