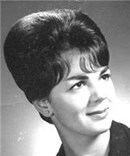 Joann Noreen (Wood) Griswold, age 81, of Three Rivers, passed away Friday, July 13, 2018 surrounded by family at Heartland Healthcare Center in Three Rivers.
She was born Jan. 27, 1937 in Three Rivers, a daughter to the late Joseph and Clara (Baldwin) Wood.
Joann graduated from Three Rivers High School with the class of 1955. She then moved to Battle Creek and graduated from Wright's Beauty Academy.
On Dec. 20, 1957 in Bay City, she married Leon R. Griswold. Together they owned and operated 4 Beauty Salons by the name of Leon's Hairstylists, one in Hastings, MI and 3 in Battle Creek where they made their home until 1974. They moved to Pine Lake, Delton, and later to the Kalamazoo area until moving to Sturgis in the late 1990's. Leon preceded her in death August 19, 2000.
Joann was also very talented in oil painting, arts, crafts, and re-purposing things. She traveled around to many fairs, Shipshewana Flea Market, Crossroads Mall, and other places selling her crafts and a variety of retail sales.
She enjoyed shopping, garage sales, shenanigans, and talking to anyone, strangers included.
Surviving are one son: James (Mary) Griswold of Constantine, and Cheri (Dave) Ruble of Battle Creek, and Gale Griswold of Cape Coral, FL; 1 brother: Roy "Sonny" Wood; grandchildren: Tera (Jeremy) Rowe, Christina (Tim) Eagan, Jodi Lewis, and Tracy (Dave) Goodale; many great-grandchildren and nieces and nephews.
She was preceded in death by her parents, husband: Leon, and 4 siblings.
The family will receive friends and relatives from 2:00 to 4:00 P.M., Wednesday, July 18, 2018 at the Rosenberg Chapel of Hackman Family Funeral Homes, 807 E. Chicago Rd., Sturgis, MI 49091.
Services celebrating the life of Joann N. Griswold will be held at 4:00 P.M., immediately following visitation, on Wednesday at the funeral home with The Rev. Jeanne Garza, First United Methodist Church, officiating.
Memorial donations may be directed to the Fisher Center for Alzheimer's Reseach, 110 E. 42nd St. 16th Floor, New York, NY 10017, envelopes are available at the funeral home.
Her obituary is also at www.hackmanfamilyfuneralhomes.com where personal messages of support may be left for the family.