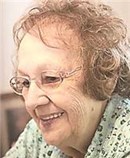 Joyce M. Adamski, age 79, of Sturgis, passed away early Monday afternoon, July 23, 2018, at Thurston Woods Village in Sturgis.
She was born March 16, 1939, in Sturgis, a daughter of the late Peter W. and Roma (Rifenberg) Harker.
Joyce was a lifelong Sturgis resident and a graduate of Sturgis High School with the class of 1957.
On July 2, 1960, she married John Henry Adamski at St. Mary's Assumption Catholic Church in Bronson. He died Sept. 30, 2010.
Joyce retired from Parma Tube in Sturgis following several years of employment. She had also worked at Midwest Tool & Cutlery, Harker Electric and Transogram, all in Sturgis, and she and John managed the K of C Hall in Sturgis.
She was a member of Holy Angels Catholic Church in Sturgis, Eagles Lodge #1314, Neuman-Wenzel Post #73 American Legion Auxiliary, St. Joe Valley Old Engine Association and past member of Women of the MooseSturgis chapter #613. For several years, she was a member of the Ralph Schaeffer Distributing bowling team.
Joyce enjoyed fishing and traveling on bus trips, and loved family gatherings and time with her grandchildren.
She is survived by two sons, John (Robin) Adamski II and Jeff (Deborah) Adamski, both of Burr Oak; eight grandchildren, Ashlie (Nate) Neumeier, Andrew Adamski, Abigail (Codee) Workman, Amber (Mike) Desotell, Mallory Adamski, Virginia (Josh) Sutton, Brandon (Nicole) Adamski and Mikayla (Jarred) Finnerman; 10 great-grandchildren, Blake Adamski, William Wurz, Gunner Sutton, Lylli Sutton, Madelyn Neumeier, Vivian Neumeier, Olivia Neumeier, Kenley Workman, Connor Workman and Benjamin Desotell; a sister, Doris (Robert) Butz of Wolcottville, Ind.; two brothers, Edwin Harker of Burr Oak and Larry Harker of Sturgis; sisters-in-law Jackie Harker and Shirley Harker, both of Sturgis; special friends Dorothy Maystead and Laura Gang; and many nieces and nephews.
She was preceded in death by her parents; her husband; a great-granddaughter, Reese Ann Sutton; four brothers, Max, Carl, Neil and Jack Harker; and an infant sister, Alice Harker.
The family would like to extend special sincere thanks to Joyce's niece Marilyn Weekly for the love she gave to her aunt while she cared for her in her home.
In accordance with Joyce's wishes, there will be no visitation. A graveside service and burial will take place at 11 a.m. Monday at St. Mary's Catholic Cemetery in Bronson. The Rev. Glenn Russell, chaplain of Thurston Woods Village, will officiate.
The Hackman Chapel of Hackman Family Funeral Homes, 114 S. Nottawa St., Sturgis, is entrusted with the arrangements.
Memorial donations would be appreciated to Burr Oak 4-H Club, 67433 County Farm Road, Burr Oak, MI 49030.
Her obituary is also at www.hackmanfamilyfuneralhomes.com, where personal messages of support may be left for the family.