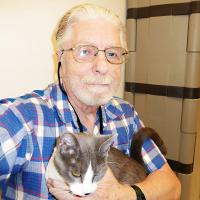 Les Schellhous, age 87,  passed away peacefully on April 28, 2018 after a brief illness. He was born on April 3, 1931 in Chicago. He married his high school sweetheart after serving during the Korean War in Germany as a photographer in the Army. He moved to California in 1954 and worked for Bank of America and Bakersfield Police Department before establishing his career in the California Highway Patrol. Les earned a Bachelor's Degree in Criminal Justice and earned a Teaching Credential in Law Enforcement, as well as Advanced and Supervisory P.O.S.T. and other Criminal Justice Certificates. He married a second time and adopted two step-children. After his retirement from the CHP he worked occasionally as an insurance adjuster.
Les was a supporter of the American Legion, the VFW, Help Hospitalized Veterans, and the NRA. An avid animal lover, he was a supporter of quite a number of animal welfare and rescue organizations. He enjoyed working with Greyfoot Cat Rescue throughout his later years. Most of all, Les had a heart for children and contributed to at least fourteen organizations. He also supported several ecological organizations.
Les was preceded in death by his daughter Debbie Schellhous and is survived by his former wife, Rosalie Schellhous and five children, Terri Carroll, Bill Schellhous, Elizabeth Kemper, Vicki Candusso and Shirley Price, as well as fourteen grandchildren and thirteen great-grandchildren. He is also survived by his two beloved cats, Buddy and Hope. He will be interred at Harwood Lake Cemetery in Newberg Twp., Cass County, on the morning of Tuesday, Aug. 7, 2018. In lieu of flowers, please make a donation to your favorite charity  that helps children or animals.
Arrangements have been entrusted to Otto & Son's, Camino del Sol