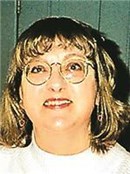 Linda Dianne (Deter) Meggison, age 70, of Sturgis, passed away unexpectedly Wednesday, July 25, 2018, at her home.
She was born May 7, 1948, in Sturgis, a daughter of the late Jack D. and Josephine E. (Cochran) Deter.
On April 3, 1980, she married Harold C. "Skip" Meggison. He died April 11, 2015.
Linda enjoyed listening to music, especially oldies and hair bands of the '80s and '90s. In her younger years, and in good health, she also enjoyed going to garage sales with her husband and making Christmas ornaments. Linda loved time spent with her many beloved dogs and cats.
She is survived by four half-brothers, Rick of Indiana, L. Allen of Indiana, Russ of Arizona and Ron of Indiana; a half-sister, Deanna (Deter) Anderson of Indiana; a cousin, Pamela J. Hacher of Illinois; special cousin, Susan B. Owen of Sturgis; sisters-in-law Ruth L. Graveel of Scotts; nieces Carrie Graveel Diegel of Byron Center and Marie Graveel Jurado of White Lake; great-nieces and nephews, Ben Diegel, James Diegel, Adela Jurado and Michael Jurado; and her much loved dog, Bambi Lolita.
She was preceded in death by her parents; her husband; aunts; a cousin, Ladd Carpenter; and several special dogs and cats.
In accordance with her wishes, cremation will take place. There will be no visitation or services.
The Hackman Chapel of Hackman Family Funeral Homes, 114 S. Nottawa St., Sturgis, is entrusted with the arrangements.
Linda's wishes were, in lieu of flowers, memorial donations be directed to Animal Rescue Fund, P.O. Box 593, Centreville, MI 49032.
Her obituary is also at www.hackmanfamilyfuneralhomes.com, where personal messages of support may be left for the family.