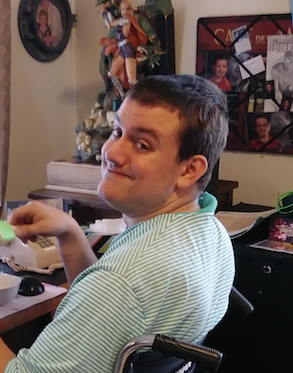 Michael James Hart, age 31, of Centreville, passed away on Friday, July 27, 2018 at his home following a long battle with Multiple Sclerosis. He was born October 11, 1986 in Peru, Indiana, a son of Brian and Lynda (Kinsman) Hart. He graduated from Lakeland High School in 2005 and received his Bachelors degree in social work from Spring Arbor University. Mike was employed at Homeless and Women's Shelters in the Jackson area.
Mike enjoyed crafting, comics, Dungeon and Dragons and magic. He was also an avid reader of his Bible.
Surviving are his mother and step father Lynda Hart and Jim Shears of Centreville, sisters Samantha Keeslar, Indianapolis, and Roxanne Hart of Centreville, grandfather Clarence Kinsman of White Pigeon, grandmother Shirley Hart of LaGrange, nephew Sengen Pelo, and many aunts and uncle. Mike was preceded in death by his father.
Relatives and friends will be received Tuesday from 1 to 3 pm at Eley Funeral Home in Centreville where a Memorial Service will be held at 3 pm Tuesday. Interment of Ashes will be in the LaGrange Cemetery at a later date. Memorial contributions may be directed to St. Joseph County Animal Rescue Fund. Online messages may be left for the family at www.eleyfuneralhomes.com.