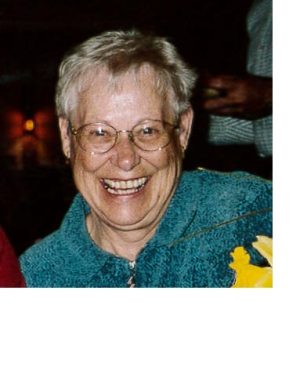 Patricia Louise Noel, age 83, of Vicksburg, passed away on Tuesday, July 24, 2018 at her home following a long illness. She was born in Schoolcraft on April 11, 1935 the daughter of Lawrence and Alice (Downey) Beebe. She graduated from Vicksburg High School in 1953 and continued her education at Parsons Business College prior to joining Ronningen-Petter / Dover Corporation as a secretary before moving into purchasing.
Patricia enjoyed gardening and cooking for the many family meals and get-togethers. Watching wildlife come into her yard looking for the treats she had placed in a metal pan, always brought a smile. The "clunk" meant mealtime to the deer and fawns, along with the turkeys, squirrels and racoons. Left over spaghetti was entertaining when the crows believed it to be snakes. Pat had a special place in her heart for German Shepherds, Suzy and Missy, along with the many Beagles they raised.
Pat married Harold Noel on April 14, 1955. Together they raised three children, Lee, Cindi, and Randi. She spent many hours following them in school events. After graduation all three kids played softball and Pat and Harold were always there for support. Canada, Minnesota, and the Upper Peninsula hold special memories for the entire family. Vacations spent there have been relived, and stories will continue to be re-told. Grandchildren were a great joy to Pat and Harold. Brock, Chad, Shannon, and Tricia brought many new adventures to the family as they grew up. Holiday meals, cook-outs, and fish-fries were always held at their home. Pat enjoyed trips up north for mushroom hunting and to Petoskey fast-pitch softball tournaments on the Fourth of July.
Pat is survived by sons, Lee (Missy) Noel and Randi (Deb) Noel; grandchildren Brock Noel (Kristin, Logan, Lillian), Chad Overweg (Jackie, Nick), Shannon Boyd (Mike), Tricia Willy (Matt, Tyler); sister, Shirley Sharp; brothers, Carl and Gus Beebe. She was preceded in death by her parents, Alice and Lawrence Beebe; in laws, Art and Pearl Noel; sisters, Margaret Martens, Betty Harper, and Sandy Beebe; brother, Lawrence; daughter and son in law, Cindi and Jerry Overweg.
The family will receive friends from 10 to 11 am Saturday, July 28, 2018 at the Eickhoff Funeral Home in Mendon. Funeral services will begin at 11 am at the funeral home with Ed Sharp officiating. Burial will be in Vicksburg Cemetery. The family requests that you dress casually and comfortably in shorts and tennis shoes. Memorial donations may be directed to Hospice Care of Southwest Michigan. Condolences may be expressed online at www.eickhofffuneralhome
The family wishes to thank Bronson Hospital, and The Harold & Grace Upjohn Care and Rehabilitation Center for excellent care and treatment and Hospice Care of Southwest Michigan. Very special thanks to Nadine Billing and Josh Heintzelman for taking care of Pat in her final days. They brought smiles to her during the last days and hours. Their care and love sent her to heaven with peace and love in her heart. The family will be forever in your debt. Thank you.