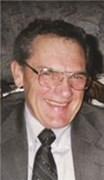 Rodney Lee Baker, age 83, of Sturgis, passed away peacefully on Thursday, July 19, 2018, in his home surrounded by his family.
He was born Jan. 21, 1935, in Three Rivers, a son of Owen O. and Myrtle(Ketchum) Baker. He married Emily Hrdlovich in 1957.
Rodney resided most of his life in the Sturgis area with the exception of a time of employment in West Virginia and Pennsylvania early in his career. He graduated from Sturgis High School in 1952 and received a B.S. in Metallurgical Engineering from Michigan Technological University in 1956.
He was president of Key Industries, a builder of mobile homes, from 1966-1976. In 1976, he was able to pursue his love of farming and livestock on a full-time basis. He enjoyed working with pork and Angus beef production and continued to do so until his death.
As a young man he enjoyed hunting and in later years, woodworking, Lawrence Welk shows, Western movies, and especially taking walks along the river with "Mickey."
He was a member of Meridian Sun-Eagle Lodge # 49 F&AM and the Sturgis Shrine Club.
Rodney is survived by his wife Emily, three children, Pamela (Doug) Cronkhite of Sturgis, Raymond (Sandra) Baker of Howe, and Jeannine (Mark) Schuurmans of Byron Center, Mi. Sister-in-law Sharon Baker and niece Julie Baker Parsons, nephew's wife, Kim Baker of Sturgis. Grandchildren: Kara (Steve) Hahn, Tressa (Travis) Crosman, Brianna(Darren) Watts, Richard (Cody) Baker, Jennifer (William) Nofziger and Claire Schuurmans and Grace Schuurmans. His step-grandchildren Lucas (Carol) Cronkhite, Lexi (Matt) Vargo and Vivian (Kevin) Mullen and his 16 great-grandchildren.
Rodney was preceded in death by his parents, his brother Dennis and nephews Bradley and Mitchell and his beloved dog "Mickey."
The family will receive friends and relatives on Wednesday, July 25 from 4 to 8 p.m at Rosenberg Chapel of Hackman Family Funeral Homes, 807 E. Chicago Rd., Sturgis, MI 49091, 269-651-3284 where a Masonic Memorial service will begin at 8 p.m. Wednesday.
The funeral service will be held at St. John's Episcopal Church in Sturgis at 11 a.m. Thursday, July 26, followed by his burial at Oak Lawn Cemetery in Sturgis. The Rev. Canon David Evans will officiate.
Memorial donations would be appreciated to Hospice of Sturgis, P.O, Box 126, Sturgis, MI 49091 or St. John's Episcopal Church. 110 S. Clay St., Sturgis, MI 49091.
The obituary is also at www.hackmanfamilyfuneralhomes.com where personal messages of support may be left for the family.