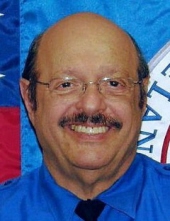 Ronald G. "Super Ron" Roth, age 78, of Three Rivers, passed away early Saturday morning, July 28, 2018 at Borgess Medical Center in Kalamazoo.
He was born July 11, 1940 in Saginaw, son of the late Albert and Bertha (Brandle) Roth.
Ron resided in Three Rivers since 2005. He also lived in Sturgis from 1968 until moving to Three Rivers and for a time lived in Grand Rapids.
Ron owned and operated Ron's Super Discount in downtown Sturgis from 1968 to 1988, for a number of years during that time he also owned and operated Ron's Donut Shop. Following the sale of the store Ron owned and operated Uniglobe Gulf Coast Travel in Florida and he retired from the Transportation Security Administration where he was employed from 2002 to 2010.
Ron was a member of Crossroads Missionary Church in Mendon and B.P.O.Elks #1381 in Sturgis. He was a past member of the Sturgis Kiwanis Club, Sturgis Rotary Club, Sturgis Downtown Development Authority and the Sturgis Area Chamber of Commerce.
He was very active member of Meridian Sun-Eagle Lodge #49 F&AM and the Sturgis Shrine Club.
Ron had a passion for cooking and for many years had a food and cooking column in the Sturgis Journal and the Three Rivers Commercial-News. He was a food blogger and was currently working on publishing a cookbook.
He truly enjoyed helping others in many ways; one of his favorite volunteer activities was delivering meals with the Meals on Wheels program.
Ron had many activities and involvements but what he truly loved was time spent with his family, beloved dog Toto, and attending every activity his grandson, Wesley, was involved in.
He is survived by one brother: Robert (Darlene) Roth of Brookville, Maryland; two nieces: Jodi Roth of Byron Center and Jennifer (Tom) Stockreef of Novi; great nieces: Kaitlin Gunter, Megan Stockreef and Anna Stockreef; son: Markham Keith of Three Rivers and grandson: Wesley Keith of Three Rivers.
In accordance with his wishes cremation has taken place. A memorial service celebrating and honoring the life of Ronald G. "Super Ron" Roth will be held at 1:00 P.M., Saturday, August 18, 2018 at Crossroads Missionary Church, 22605 M-60, Mendon, MI 49072. Pastor Brian Balasa will officiate. Private entombment of the ashes will take place at Acacia Park Cemetery in Beverly Hills, Michigan.
The Hackman Family Funeral Homes of Sturgis is entrusted with the arrangements.
In lieu of flowers the family suggests memorial donation be directed to Meals on Wheels c/o: St. Joseph County Commission on Aging, 103 S. Douglas Ave., Three Rivers, MI 49093 or the Shrine Orthopedic Hospital for Children, 233 Fulton, Suite 102, Grand Rapids, MI 49503.
The obituary is also at www.hackmanfamilyfuneralhomes.com where personal messages of support may be left for the family.