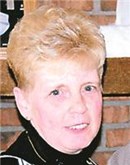 Elizabeth Sue Marchand, age 73, of Sturgis, passed away early Thursday evening, July 5, 2018, at Borgess Medical Center in Kalamazoo, following a long hard-fought battle with Parkinson's disease.
She was born July 6, 1944, in Greensboro, N.C., a daughter of the late Joseph W. and Lucille E. (Bullyboy) Smith.
Sue resided most of her life in Sturgis and was a graduate of Sturgis High School with the class of 1962.
On Jan. 19, 1963, she married the love of her life, Charles Marchand, at First Baptist Church in Sturgis.
Sue retired from Kirsch Company in Sturgis following 29 years of dedicated employment. Prior to joining Kirsch Company, she worked at Sturgis Hospital, Freeman Manufacturing and Keister Walgreens, all in Sturgis.
She enjoyed crocheting, playing bingo, coloring books, canvas artwork, fishing, working in her yard and watching "The Bold and Beautiful." She loved traveling to casinos, riding in the golf cart with her husband and time spent with family.
Sue is survived by her loving and dedicated husband of 55 years, Charles; a daughter, Tammy S. (Larry) Martin of LaQuinta, Calif.; three sons:, Scott A. (Sharon) Marchand, James W. (Dawn) Marchand and Joseph C. Marchand, all of Sturgis; three granddaughters, Kristy (Joe) Manley of Ohio, Hannah Marchand, a student at Jacksonville University in Jacksonville, Fla., and Breanna Kessler of Sturgis; two great-grandchildren, Izen and Bella; two sisters, JoAnn Darby and Louise Pippenger, both of Sturgis; a sister-in-law, Carol Smith of Sturgis; best friend Lyla and Art Fox of Sturgis; and many nieces and nephews.
She was preceded in death by her parents; a brother, George Smith; and brothers-in-law Maurice Pippenger and Jerry Darby.
The family will receive friends from 5 to 8 p.m. Tuesday at the Rosenberg Chapel of Hackman Family Funeral Homes, 807 E. Chicago Road, Sturgis. Funeral services celebrating and honoring the life of Sue Marchand will be held at 11 a.m. Wednesday at the funeral home. Mr. Robert Keim will officiate. A graveside committal will follow the service at Oak Lawn Cemetery in Sturgis.
The family suggests those wishing to make a memorial donation in Sue's memory consider Friends of the Desert Mountains, P.O. Box 1281, Palm Desert, CA 92261. It is a nonprofit land preservation organization that Sue highly believed in and supported and her daughter Tammy serves as executive director.
Her obituary is also at www.hackmanfamilyfunealhomes.com, where personal messages of support may be left for the family.