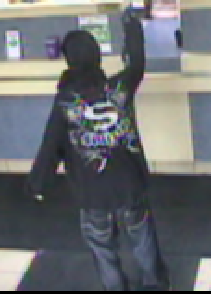 Sturgis Police are asking for the public's help in identifying the man who robbed the Sturgis Bank and Trust, at 1001 S. Centerville Road, Wednesday morning.
The robbery occurred shortly before 10:30 a.m.  Police said the suspect displayed what is believed to be a weapon. He escaped with an undisclosed amount of money.
The suspect is described as a thin built black male about 5-feet, 7-inches tall.
The suspect was wearing baggy jeans and a black hoodie with a design on the back.
Authorities said the suspect wore a blue bandana covering his face, along with sun glasses.
Police believe the vehicle involved may possibly be a gold or tan in color early 2000s GM 4-door passenger car that was last seen heading south on South Centerville Road.