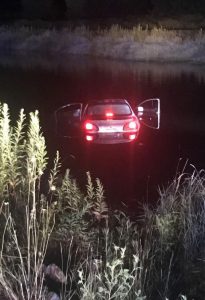 A vehicle chase midweek led to the arrest of two Indiana men.
Just before 11 p.m. Wednesday, Sturgis police were notified that several Indiana police agencies were pursuing a vehicle heading toward the city.
Sturgis officers joined the pursuit on South Centerville Road. The driver of the fleeing vehicle led officers into an industrial area near Wade Street and through two factory parking lots.
The vehicle continued until it was driven through the front gate of the Sturgis wastewater treatment plant and into a retention pond.
The driver, a 27-year-old Angola man, faces charges that include fleeing and eluding, possession of methamphetamine with intent to distribute, possession of a stolen vehicle and driving while under the influence of drugs.
A passenger, a 41-year-old man from Kendallville, faces drug charges and also was wanted on warrants.
A third man, a 30-year-old from Muncie, Ind., was cited and released, facing misdemeanor charges.