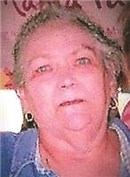 Christina Marie (Huntley) Anderson, age 73, of Sturgis, passed away Aug. 6, 2018, at home, with family by her side.
She was born May 22, 1945, at home in Detroit, a daughter of the late Eugene Roland and Betty Jane (Miller) Huntley.
Christina graduated from Beecher High School in Flint with the class of 1963.
In the summer of 1964, she married Richard Carl Anderson. This marriage ended in divorce, and she never remarried, but dedicated her life to raising her children, other family members and some of the neighborhood kids.
In 1974, she moved to Beulah, where she resided until 2001, when she moved to Sturgis to be closer to her daughter and grandchildren.
Christina was kind, caring, selfless and extremely strong. She had been on kidney dialysis for more than 10 years and received numerous graft implants and finally an emergency port in her heart that doctors feared wouldn't last more than a few months. Over two years later, the port was still working and she continued to amaze everyone, including her doctors, with her will to continue.
Her family would like to thank Heartland Health Care Center in Three Rivers for the excellent care she has received over the last three years, and Fresenius of Sturgis and Three Rivers for their care for the last 10 years. She had a sense of humor right up to the end, as everyone gathered around her to say goodbye and she let us know she had a good life.
Surviving are a daughter, Tricia (David) Roberts of Sturgis; a son, Tim (Theresa) Anderson of Burton; four grandchildren, Christopher (Jessica) Boland of Mendon, Emma Boland at Regis University in Denver, Trevor Anderson of Burton and Nicole Dalrymple of Davidson; three great-grandchildren, Liam and Blake Boland and Lucas Dalrymple; five brothers, William (Lois) Huntley of Beulah, Laurence (Paula) Huntley of Bear Lake, David (Sherry) Huntley of Montrose, and Kevin (Kathie) Huntley and Keith Huntley, both of Beulah; and several close nieces and nephews.
She was preceded in death by her parents; and a brother, John Huntley, in 1985.
According to her wishes, cremation has taken place. A memorial service celebrating the life of Christina M. Anderson will be held at 11 a.m. Saturday, Sept. 8, 2018, at St. Andrews Presbyterian Church, 8190 Lincoln Road, Beulah. The Rev. Anne Hebert will officiate.
In lieu of flowers, memorial donations may be directed to National Kidney Foundation  of Michigan, 1169 Oak Valley Drive, Ann Arbor, MI 48108.
Her obituary is also at www.hackmanfamilyfuneralhomes.com, where personal messages of support may be left for the family.