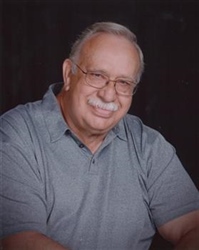 Dennis Donald Ziehm, age 73, of Three Rivers, passed away on Thursday, August 2, 2018 at his home surrounded by his family.  He was born in Mt. Clemens, MI on October 28, 1944 the son of Donald and Ann (Waitkus) Ziehm.
Dennis has been a resident of Three Rivers for twenty five years coming from Shelby Township.  He was united in marriage to Marjorie "Pixie" Lee Oehmke on June 12, 1965. Dennis was employed at Peterson Spring for many years as a tool and die designer.  He was a member of the Three Rivers Car Club and Immaculate Conception Catholic Church. Dennis cherished his time spent with family and friends which included camping, fishing, and going to the casino.  He will be dearly missed by all who knew him.
He was preceded in passing by his parents and one brother, Alan Ziehm.
Dennis is survived by his wife of fifty three years, Marjorie "Pixie" Ziehm of Three Rivers; son, Todd (Michelle) Ziehm; daughter, Tracy (Jason) Nichols; grandchildren, Shonna Keyes, Vincent Ziehm, Christopher Sawyer, Hailey Nichols, and Rylee Collier; brothers, James Ziehm and Fritz (Linda) Ziehm.
The family will receive friends from 5:00 to 7:00 p.m. with Rosary Services beginning at 7:00 p.m. on Friday, August 10, 2018 at Hohner Funeral Home.
Mass of Christian Burial will held at 11:00 a.m. on Saturday, August 11, 2018 at Immaculate Conception Catholic Church, 645 S. Douglas Ave, Three Rivers with Fr. Antony Rajesh as celebrant.
Memorial donations may be directed to Immaculate Conception Church c/o Future Mary's Garden.  Envelopes available at the funeral home.