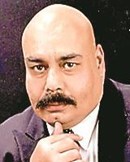 Dimpi Sahni, age 59, of Sturgis, passed away unexpectedly Friday afternoon, Aug. 3, 2018, at the Sturgis Hospital emergency room.
He was born Feb. 13, 1959, in India, a son of the late Surinder Singh and Amarjit (Anand) Sahni.
Dimpi resided in Sturgis for more than 25 years, coming from Cleveland and he also lived in Long Island, N.Y.
Along with his brother, he was involved in the businesses of All that Jazz and ATJ Real Estate Holdings.
He was a member of Sikh Temple in Mishawaka.
Dimpi enjoyed music and loved cooking. Many will remember his generosity and sincere care and concern for others.
He is survived by a brother, Anu Sahni of Sturgis; a niece, Brooke Sahni of Las Cruces, N.M., and several cousins.
A gathering of family and friends and memorial service will be held from 11 a.m. to 1 p.m. Saturday at Rosenberg Chapel of Hackman Family Funeral Homes, 807 E. Chicago Road, Sturgis.
His obituary is also at www.hackmanfamilyfuneralhomes.com, where personal messages of support may be left for the family.