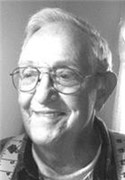 Joseph A. Graber, 96, of White Pigeon, died peacefully at 5:45 a.m. on Tuesday, Aug. 28, 2018, at his residence.
He was born on Nov. 30, 1921, in Middlebury, to Abraham and Bena (Roth) Graber.
On Aug. 21, 1948 in Clinton Brick Mennonite Church he married Cora Miller; she survives. Survivors in addition to his wife are four daughters, Linda (Dan) Peterson of Granger, Lorraine (Neal) Mishler of Waynesboro, Pa., LuAnne (Kerry) Hart of Elwood City, Pa. and Lois (Mike) Featherstone of Constantine; two sons, Lowell (LaDonna) Graber of White Pigeon, Lester (Kristal) Graber of Washington, DC; 18 grandchildren; 13 great-grandchildren; two sisters, Esther (Glen) Riegsecker of Middlebury, and Ruby (Floyd) Miller of White Pigeon; brother, Sam (Adeline) Graber of Goshen. He was preceded in death by his parents; five brothers, Allen Graber, Ezra Graber, Ervin Graber, Floyd Graber, and Dan Graber.
He was a member of Clinton Brick Church and a retired farmer. Joe was a World War II Army veteran who received a Purple Heart from the Pacific Theater. He was proud to earn his GED at the age of 65. Joe and Cora traveled to many countries after retiring and enjoyed many new sites and cultures. They lived in their farmhouse for 65 years and enjoyed 70 years of marriage.
Visitation will be from 2 to 4 p.m. and 6 to 8 p.m. Friday, Aug. 31, at Miller-Stewart Funeral Home, 1003 South Main Street, Middlebury. Family and friends will gather at Clinton Brick Cemetery for a 10 a.m. graveside service on Saturday, Sept. 1. A memorial service will follow at 11 a.m. at Clinton Brick Church. Services will be conducted by Pastor Joe Graber, a grandson.
Memorials may be given to Clinton Brick Church. Online condolences may be offered at millerstewartfuneralhome.com.