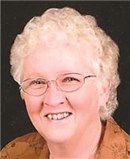 Lorraine L. Mast, age 77, of Sturgis, formerly of White Pigeon, died at 2:45 a.m. Friday, August 10, 2018 at Thurston Woods Village.
She was born December 4, 1940, in Souderton, Pa., to Mahlon and Edna (Lapp) Detweiler. On September 12, 1970, she married Omer Mast in Goshen, Ind. He survives in Sturgis.
In addition to her husband, surviving are two sons, Curtis Mast of Zephyrhills, Fla., and Kevin Mast of White Pigeon; a grandson, Mosheven Aden-Blue Mast; two sisters, Eleanor (Walt) Guenin of Topeka, Ind., and Bernice (Clarence) Whirledge of Middlebury, Ind.; and two brothers, Walter (Gladys) Detweiler of Chalfont, Pa., and Darwin Detweiler of Hatfield, Pa.
She was preceded in death by her parents; a son, Craig Mast; and a sister, Gloria Waleyewski.
She was a member of New Life Christian Center Church and enjoyed sewing and embroidery. She was a homemaker, factory worker and volunteered her services in New Mexico.
Visitation will be from 4 to 7 p.m. Tuesday, August 14, at Miller-Stewart Funeral Home, 1003 South Main St., Middlebury, Ind.. Funeral services will be at 10 a.m Wednesday, August 15, at the funeral home. Services will be conducted by Chaplain Glenn Russell. Burial will be in Miller Cemetery, Goshen, Ind. Memorials may be given to the donor's choice. Online condolences may be offered at millerstewartfuneralhome.com.