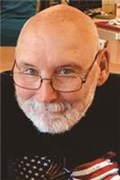 Robert C. Tenney, age 59, of Sherwood, passed away Saturday, Aug. 25, 2018, at his home, the family farm, surrounded by his family after an extended illness.
Robert was born the only son to the late Lewis L. and Loretta Ann (Truckey) Tenney on Oct. 15, 1958.
Robert lived in Sherwood his entire life, graduating from Union City High School with the class of 1977.
On Aug. 21, 1993, he married JoAnn Ernsberger in Burr Oak.
Robert worked at Morgan Olson most of his life retiring in 2014 after 36 years of employment.
Robert enjoyed hunting and fishing, gardening, model trains, tending his birds and fish, and most especially loved collecting anything and everything to do with Oliver tractors.
He is survived by his wife JoAnn Tenney of Sherwood; three sisters, Deborah G. (Bill) Carls of Sherwood, Cinthia L. Wielinski of Quincy, and Barbara A. (James) Wallen of Union City; a brother-in-law Richard Ernsberger of Bronson; several nieces, nephews, aunts, uncles, cousins, and close friends Rusty Hyder and Wayne Yoder.
He was preceded in death by his parents; and mother-in-law Joyce Ernsberger.
The family will receive relatives and friends on Tuesday, from 2 to 8 p.m. at the Schipper Funeral Home LTD in Colon. Funeral Services celebrating the life of Robert C. Tenney will be Wednesday, Aug. 29, 2018, at 11 a.m. from the funeral home with Pastor Trent Hammond officiating. Burial will follow in the Sherwood Cemetery.
In lieu of flowers, a memorial donation can be made to the Sherwood Garden Club Scholarship Fund.