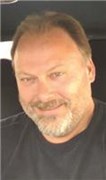 Ronald L. Koehler, age 51, of Colon, passed unexpectedly the evening of Wednesday, Aug. 22, 2018.
Ron was born on March 28, 1967, in Mishawaka, to Gary & Karen (Huston) Koehler.
Ron attended many schools & academies, including Beardsley Elementary School, South Bend Junior Academy, Indiana Academy, Riley High School of South Bend and was a graduate from Sturgis High School.
Ron moved around a bit in his younger days, but always seemed to find his way back home to the Sturgis area. He had a great love of cats and spent a majority of his time caring for all his fur-babies. He also had a passion for photography and always had a camera close at hand.
Ron was preceded in death by his brother, Bradly Koehler; and his mother Karen Huston.
He is survived by his father, Gary Koehler; step-mother, Melba Beckman; grandmother, Nadine Huston; sister, Kerri Snodgrass; brothers, Paul, Tony and Kenneth Koehler.
Visitation will be held at Hahn Funeral Home, 505 W. 8th St, Mishawaka Ind., on Aug. 30, 2018, from 2 to 6 p.m. with a service to follow at 6 p.m. Interment will be at a later date after cremation is completed.
In lieu of flowers, the family is requesting donations to be made to Hahn Funeral Home to help cover for funeral expenses.
To leave the family an online condolence, please visit www.hahnfuneralhomes.com.