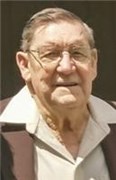 Robert E. Kime, age 85, of Howe, died Saturday, Sept. 22, 2018, at his residence.
He was born on March 12, 1933, in Howe, Ind., to Ervin and Mildred (Harris) Kime.
Bob was a lifetime residence of the Howe community. He worked for 53 years at Sherman Farm Equipment. He was a mechanic and the service manager.
He was a member of the Sturgis Eagles Lodge #1314, Sturgis Men's Bowling Association, former Howe Boy Scout Master and a retired fireman. Serving the Howe Fire Department for 33 years.
Bob also enjoyed fishing and working on his tractors.
He served his country in the U.S. Army during the Korean War.
On Sept. 12, 1953, he married Mary Lou Marbaugh. She survives him in Howe.
Also surviving are his two sons, Michael R. (Donna) Kime of Monticello, Ind., and Daniel L. (Janelle) Kime of Centerville, Ohio; six grandchildren; and two great-grandchildren; four sisters, Mary Ellen Penn-Carpenter of Macon, Ga., Norma Stanner of Cocoa Beach, Fla., Patricia Andrews of Austin, Texas, and Janet Miller of Sturgis; and a brother, Willard Kime of Newberry, Mich.
Robert was preceded in death by his parents; and a sister, Lois Marks.
A viewing will take place on Thursday, Sept. 27 at the Frurip-May Funeral Home, 309 West Michigan St., LaGrange, from 2 to 4 p.m. and 6 to 8 p.m.
Cremation will take place after the viewing.
Memorials may be contributed in Robert's honor to the Donor's Choice.
Online condolences may be submitted to the at www.fruripmayfuneralhome.com.