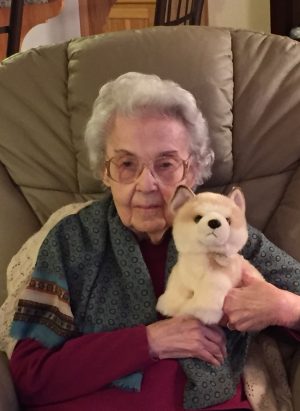 Caroline L. Hanson, age 95, of Hoschton, GA and formerly of Centreville, passed away on Wednesday, September 5, 2018 at Bell Minor Home in Gainesville, GA. Caroline was born in Chicago on August 12, 1923, a daughter of the late Paul and Thelma (Austedt) VanBriggle. She graduated from Austin High School in Chicago in 1940.
On June 2, 1945, she married Warren Hanson in Chicago. He preceded her in death on September 3, 2010. Caroline loved to bake, cook, and was an avid reader.
Surviving are her daughter Kristine Hanson of Hoschton, GA, son-in-law John Hanson of Sturgis, adopted daughter Alice Gies of Hoschton, GA, grandchildren Michael Hanson of Aurora, IL and Matthew Hanson of Plainfield, IL, great grandchildren Breanna, Hailey, Zoe, and Ava, and brother Paul Donald VanBriggle of Missouri. She was preceded in death by her parents, husband, and daughter Gale Hanson.
Relatives and friends will be received Wednesday, September 12 from 11 AM to 1 PM with a religious service following at 1 PM, all at Eley Funeral Home in Centreville. Pastor David Peterson, Centreville Baptist Church, will officiate. Interment will be in Prairie River Cemetery. In lieu of flowers, memorial contributions can be made to St. Joseph County Animal Rescue Fund. Online condolences can be left for the family at www.eleyfuneralhomes.com.