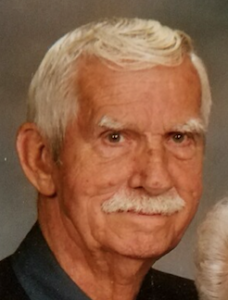 Charles LaVerne McClain, age 94, of Constantine, passed away Monday, September 24th, at Heartland Health Care Center, Three Rivers.
Charles was born in Osceola, IN on November 1, 1923, a son of William Stewart and Edna Mae (Simpson) McClain. He graduated from Middlebury High School in 1941. Charles served in the US Army and the Merchant Marines.
On July 20, 1946 he married Betty Young in Constantine. She preceded him in death January 20, 2018.
He was a member of Porter Baptist Church and enjoyed horses, flying as a student pilot, hunting and fishing.
Charles is survived by a son, David McClain, Constantine, grandchildren Brad (Kari) McClain, of Three Rivers, Kathy McClain of Hudson, FL, great grandchildren Kayla-Christine Hollowell , Zoe McClain, Mercedes Winkelman and Justin Winkelman, great great grandson Eli Martin.
He was preceded in death by his parents, wife, daughter Linda McClain, sisters Mary Jane McClain and Betty Mae McClain, brothers Kenneth, Dean, Clayton and William McClain.
Relatives and friends will be received Friday from 12 to 2 pm at Eley Funeral Home in Constantine, where Religious Services will follow at 2 pm Friday. Pastor Randy Peterson will officiate.
The family requests donations to Eley Funeral Home to help with expenses. Cremation will follow services with interment of ashes at Constantine Township Cemetery. Online messages may be left for the family at www.eleyfuneralhomes.com.