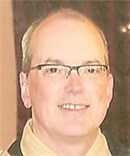 Jeffrey H. Rambadt, age 55, of Sturgis, passed away Sunday afternoon, Sept. 9, 2018 at his home, surrounded by his family.
He was born Oct. 22, 1962, in Sturgis, a son of Ronald E. and Carol (Alderman) Rambadt.
Jeff was a lifelong Sturgis resident and a graduate of Sturgis High School with the class of 1980. He continued his educational pursuits throughout his life, eventually receiving a bachelor's degree in business administration from Spring Arbor University. Jeff was pursuing a master's degree in food safety and administration from Michigan State and most recently, in August of this year, completed a course in microbiology.
On May 27, 1983, he married Elizabeth "Betsy" Loughrin at Holy Angels Catholic Church in Sturgis.
Jeff was dubbed a "Data Ninja." For the past 20 years, he had been employed by Abbott Nutrition in Sturgis, his last position being that of plant quality systems manager. Before joining Abbott, he had been employed as a computer programmer at Burr Oak Tool in Sturgis.
Jeff was a dedicated and active member of Holy Angels Catholic Church in Sturgis, where he made his Cursillo. He was very involved in music at his church, often times playing his guitar and directing the youth band. For many years, he was the narrator at the children's Christmas Mass.
Jeff was very involved in Scouting and enjoyed being Scoutmaster of Troop 407 in Centreville. In addition to many other trips he led, this July he led his troop on a weeklong sailing adventure aboard a 51-foot sailboat on Lake Michigan and Lake Huron.
He had a love and appreciation for music and the arts. One of the many memories his children have is falling asleep while listening to their dad play his J45 Gibson guitar. For many years, he played guitar, banjo and mandolin in a bluegrass band at Carriage House Inn in Shipshewana.
He enjoyed fishing, following his Chicago Bears, Detroit Tigers and was an avid hockey fan.
Jeff had many involvements and activities in his life, but what he truly loved was time with his family. He was a constant source of strength and support for Betsy and the children. He could nearly always be found in attendance at the many activities of his children.
He is survived by his loving and dedicated wife of 35 years, Betsy; his children, Emily (Brandon) Wilton of Mishawaka, Benjamin (Sarah) Rambadt of Grand Rapids, Kaitlin (Ryan) Hibshman of Mishawaka, Gretchen (Kyle) Mills of Clawson, and Cecilia Rambadt, Joseph Rambadt, Andrew Rambadt and Peter Rambadt, all of Sturgis; grandchildren Calvin, Oliver, Azariah, Eliyanah and Laurelin; his parents, Ronald and Carol Rambadt of Sturgis; sisters Allison (Daniel) Jeran of Islip, N.Y., and Amy (Tony) Roberts of Granger, Ind.; a brother, Chris Rambadt of Austin, Minn.; and several nieces and nephews.
He was preceded in death by a daughter, Monica Rose Rambadt; and two grandchildren: Theodore and Eleanor.
The family will receive friends from 2 to 4 p.m. and 6 to 8 p.m. Thursday at the Holy Angels Catholic Church fellowship hall, 402 S. Nottawa St., Sturgis. The Most Holy Rosary of the Blessed Virgin Mary will be prayed at 8 p.m. Thursday at the church.
A funeral Mass celebrating the life of Jeff Rambadt will be held at 11 a.m. Friday at Holy Angels Catholic Church in Sturgis. The Rev. Father Evelio Ramirez will officiate. A graveside committal will follow the service at Oak Lawn Cemetery in Sturgis.
The family suggests those wishing to make a memorial donation in Jeff's memory consider Cursillo Kalamazoo, Diocese of Kalamazoo, c/o Diana Godish, treasurer, 1431 Northampton Road, Kalamazoo, MI 49006, kalamazoocursillo.com/donate; Catholic In A Small Town Podcast – Mac and Katherine Barron, www.patreon.com/cst; Holy Angels Cangumbang Mission, c/o Cangumbang Mission, 402 S. Nottawa St., Sturgis, MI 49091; or mail to World Wide Marriage Encounter, c/o Len and Marlene Chotkley, 2665 Five Mile Road, South Lyon, MI 48178.
His obituary is also at www.hackmanfamilyfuneralhomes.com, where personal messages of support may be left for the family.