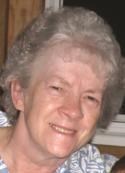 Judith M. Baldwin (Fair), age 74, passed away after a long illness on Friday, Sept. 14, 2018, in the home she shared with her daughter in Woodbridge, Calif.
Judy was born the 11th of 12 children to C. Leroy and Beulah (Draime) Fair of Sturgis. She often shared fond memories of growing up on the farm with her parents and many siblings.
Judy was a life-long resident of Sturgis prior to her illness, attending and graduating from Sturgis High School in 1962.
Judy worked at Sturgis Cartons/Americraft for over 45 years before retiring. The family often shared a laugh about how she "accidentally" got this job one day when she "went along for the ride" with her sister, Marylou, who was going to apply that day and how it ended up being her one and only job.
Judy married John Baldwin of Sturgis in 1964, later divorcing and then meeting and spending over 30 years with the love of her life Raymond (Ray) Shoulders of Sturgis.
Judy was the mother of four, grandmother of two, great-grandmother of two, and a friend to many. She had a fondness for horses and babies, enjoyed attending church, playing games and spending time with her family. She was a shy and humble, kind and generous person who will be dearly missed by those who were fortunate enough to have known her.
Judith is survived by her daughter, Jan Hetu (Baldwin); granddaughter Ashley Buckley (Baldwin); great-grandson Drake Buckley; and great-granddaughter Jynessa Navarette of Woodbridge, Calif.; her son Joseph (Joe) Baldwin; grandson Devon Baldwin of Wyoming Mich.; her sister and brother-in-law Dorothy (Dot) and Richard (Dick) Morris of Howe, Ind.; her sister-in-law Linda Fair of Jones, Mich.; as well as numerous nieces, nephews, extended family members and friends.
Judith was preceded in death by her parents, C. Leroy and Beulah Fair; her brothers, Leo Fair, Robert Fair, Jerry Fair; her sister Lois Fair; her sisters and brothers-in-law Velma and Raymond Raver, Doris and Richard Garlets, Edith and James Harker, Barbara and Harold (Red) Davis, Marylou and Maurice (Hap) Stetler; her brother and sister-in-law Paul and Dorothy Fair; her ex-husband John Baldwin; her life partner Raymond Shoulders; and her sons Baby Boy Baldwin and John C Baldwin.
The memorial services will be held on Saturday Oct. 6, 2018, at the Hackman Chapel of Hackman Funeral Homes, 114 S. Nottawa St., Sturgis, MI 49091, 269-651-2331. There will be time for family and friends to gather from 1 to 2 p.m. with the service commencing at 2 p.m. A graveside committal will follow the memorial service at the Tobey Cemetery in Burr Oak Township.
In lieu of flowers, the family requests that you consider making a contribution to the Fisher Center for Alzheimer's Research Foundation, 110 East 42nd Street – 16th Floor, New York, NY 10017, (800) ALZINFO (259-4636) alzinfo.org or to Judith's favorite charity:St. Jude Children's Research Hospital , 262 Danny Thomas Place, Memphis, TN 38105 (800) 822-6344stjude.org
The obituary is also at www.hackmanfamilyfuneralhomes.com where personal messages of support may be left for the family.