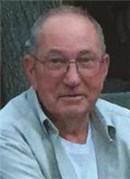 Carl Junior Drumhiller, age 82, passed away on Friday, Aug. 31, 2018, at his home in Colon. He died peacefully, surrounded by his children.
Junior was born in Colon to the late Carl Burr Drumhiller and Georgia Francis (Fitzgerald) Drumhiller. He served in the U.S. Army from 1959 to 1961.
Junior spent his entire life in Colon, as a general contractor and skilled builder, building many residential homes and commercial buildings in the surrounding areas, including the home he shared with his wife Florence (Merrifield) of 50 years.
Jr. was an animal lover, always having his faithful dog by his side and cats nearby. In his early days, he was a trapper and small game hunter. In his later life he hunted big game and has many trophies of his adventures. He loved being in the woods, and spending time with his family at his cabin near Irons, mushrooming in the Yuma hills, and telling stories by the fire pit. He was a member of the American Legion Post 454, Pheasants Forever and the NRA.
He is survived by his wife, Florence; sister Louise Clipfell; two daughters, Kelly Santoni and Kim Ward of Shelby Township; son Ronald Ward Jr. (Butch) of Irons; and his grandsons, Tucker and Reilly Bernard and Austin Nusbaum; and many nieces and nephews.
His parents Carl and Georgia, four half-siblings, and an older sister Ethel preceded Junior in death.
The family will receive relatives and friends on Wednesday, from 2 to 4 and 5 to 8 p.m. at the Schipper Funeral Home LTD in Colon. Funeral services celebrating the life of Junior will be Thursday, Sept. 6, 2018 at 11 a.m. at the funeral home with Pastor David Grimm officiating. A private burial will take place immediately following the service.
If desired, memorial donations may be made in honor of Junior to the Colon American Legion or Pheasants Forever Chapter #615.