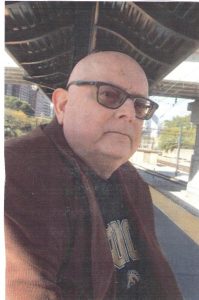 Larry Dell Keiser, age 73, of Constantine and previously of Battle Creek, passed away Wednesday, September 5th, at his home.
Larry was born in Battle Creek on August 24, 1945, a son of the late Donna (Sharpsteen) and Forrest Keiser. He graduated from Muskegon High School in 1963 and later received his Associates Degree in Early Childhood Education from Kellogg Community College.
On August 16, 2001, he married Marifrances Richards in Battle Creek. Larry retired from Michigan Rehabilitative Services in Battle Creek in 2011, where he worked as an employability skills coach. Previously, he worked as vice president of membership sales at the Battle Creek Chamber of Commerce.
Larry was an accomplished tuba player and was a member of several bands, including the Keiser Brass Band. He enjoyed collecting die cast figures and loved spending time with his dogs, Maggie and Titus.
Larry is survived by his wife, Mari, of Constantine, daughter Sally Pearson of Sarasota, FL, son Bradley (Jimara) Keiser of Jacksonville, FL, and step daughters Dawn (Peter) Blowers of Otsego, Hillari (Kurk) Wright of Plainwell and Sarah (Joe) Erdos of Constantine. He is also survived by his grandchildren John, Becky, Tom, Ren, Vincent, Lilie, Broc, Molly, Benjamin, Elaina, and Henry; step brother Greg Vale and half sisters Pat Raleigh and Kelli Stull.
He was preceded in death by his parents.
According to Larry's wishes, cremation has taken place. No public services will occur. Memorials can be directed to Three Rivers Police Department Project Law Dog, or Helen DeVos Children's Hospital.
Arrangements were entrusted to Eley Funeral Home, Constantine. Online condolences can be left for the family at www.eleyfuneralhomes.com.