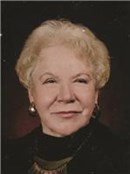 E. Marie Brouse, age 94, of Sturgis, passed away Thursday evening, Aug. 30, 2018, at Sturgis Hospital.
Mrs. Brouse resided in Sturgis since 1945. On June 28, 1947, she married Leonard V. Brouse in Angola. He died Aug. 25, 1983.
Mrs. Brouse began teaching art in the Sturgis Public Schools in 1946 inspiring many little vivacious would be artists until her retirement in 1987.
She was inspired to find art and beauty in nature and items others discarded. She took pride in her home spending hours in her gardens and landscaping. Acting in plays and public speaking were two of the many interests she pursued. She enjoyed sewing and made much of her own wardrobe and was always excited to find deals on fabric. To stay fit she rode bicycles, wearing out four of them. Marie worked hard and enjoyed life. She will be missed.
She was a member of the First United Methodist Church in Sturgis and several Bridge clubs.
Mrs. Brouse is survived by one son: Craig Brouse; one daughter: Pentha Lord M.D., three grandchildren and one great granddaughter and several nieces and nephews.
She was preceded in death by her parents, husband and two sisters.
The family will receive friends from 5 to 7 p.m. Thursday at the Rosenberg Chapel of Hackman Family Funeral Homes, 807 E. Chicago Rd., Sturgis, MI 49091, 269-651-3284. Private burial will take place at Oak Lawn Cemetery in Sturgis.
Memorial donations would be appreciated to the First United Methodist Church, 200 Pleasant Ave., Sturgis, MI 49091.
The obituary is also at www.hackmanfamilyfuneralhomes.com where personal messages of support may be left for the family.