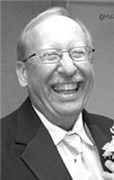 Michael C. Stefanski, age 70, of Sturgis, died Thursday, Aug. 30, 2018, at Bronson Methodist Hospital following a short illness.
He was born Dec. 28, 1947, in Sturgis, the son of Clifford J. and Mary Jane (Herman) Stefanski.
He was a graduate of Bronson High School in 1965 and also a veteran of the U.S. Army where he served in Vietnam as a pilot of a Cobra Helicopter Gunship. He was a Sturgis resident since 1977, coming from Baltimore and spent his early life in Bronson.
He was employed at Syndicate Systems in Middlebury  for 36 years, retiring in 2011. He was a member of the Neuman-Wenzel Post #73 American Legion and Veterans of Foreign Wars Post #1355, both of Sturgis. He was a member of VHPA, fourth degree member of the Knights of Columbus in White Pigeon, an avid bowler in Sturgis for 36 years and on the Sturgis Bowling Board. He was a 300-game bowler and attended 27 national bowling tournaments.
He was a member of St. Joseph Catholic Church and the St. Joseph Catholic Church Cemetery Board. He enjoyed the outdoors, camping, golfing, John Deere tractors and most of all, spending time with his family and friends. He was a past grandnight of the Sturgis and White Pigeon Knights of Columbus Councils.
On June 26, 1971, he married Ellen M. Crawford at St. Anne's Catholic Church in Phoenixville, Pa. She survives, with two daughters, Alissa (James) Wysong of Osceola, Ind. and Stacey (Dave) Priestley of LaGrange; four grandchildren; four sisters, Mary Louise Stefanski and Jackie (Gil) Magoon, both of Battle Creek, Karen (Ed) Stefanski of Bronson and Joy Stefanski of Kalamazoo; two brothers, David (Gretchen) Stefanski of Tekonsha and Joe (Sherry) Stefanski of LaGrange; and several nieces and nephews. He was preceded in death by his parents and sister, Ruth Ann Keller.
Relatives and friends may call from 2 to 4 and 6 to 8 p.m. Tuesday at the Farrand Funeral Home in White Pigeon where a Rosary service will be at 8 p.m. Service will be at 11 a.m. Wednesday at the St. Joseph Catholic Church in White Pigeon. Cremation will follow with interment of cremains at a later date in St. Joseph Catholic Cemetery.
Memorial donations may be directed to St. Joseph Catholic Church or Army Aviation Heritage Foundation and Museum.