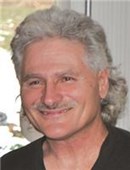 Michael Dale Wickey, age 65, of Sturgis, went home to be with his Jesus on Thursday, Aug. 30, 2018, peacefully at his home with his family after a short illness.
Michael was born June 1, 1953, in Sturgis, a son to the late Chris C. JR and Rebecca (Schwartz) Wickey.
He had lived all of his life in St. Joseph County attending Colon High School and later owned and operated Wickey Roofing with his sons.
On Oct. 13, 1973, he married Brenda J. Schwartz in Colon.
Michael had served as a chaplain at the LaGrange County and St. Joseph County jails and had a passion for sharing Jesus with everyone. He enjoyed anything out of doors: hiking, mountain climbing, hunting, fishing, camping, motorcycling, but most of all, time spent with his family.
He is survived by his wife Brenda J. (Schwartz) Wickey of Sturgis; four sons, Nathan (Kathy) Wickey of LaGrange, Stephen (Joanna) Wickey of Colon, David (Katherine) Wickey of Howe, and Anthony (Jennifer) Wickey of Kalamazoo; 11 grandchildren, Raina, Jason, Ava, Madison, Petra, Noah, Sarah, Isaiah, Alexander, Aaron and Evelyn; three brothers, Steven (Shakuntala) Wickey of Punta Gorda, Fla., Chris III (Anna) Wickey of Leonidas, and Jeffery (Sharon) Wickey of Sturgis; sister, Carol (Paul) Pursel of Sturgis; and many nieces and nephews.
The family will receive relatives and friends on Saturday, from 3 to 8 p.m. at GRACE Christian Fellowship, 300 Timothy Dr., Sturgis, MI 49091. Funeral services celebrating the life of Michael D. Wickey will be Sunday, September 2, 2018 at 2 p.m. from the church, with Chris Wickey III officiating.
If desired, memorials may be made in memory of Michael to the LaGrange Jail Ministry Fund. Burial will follow in Leonidas Cemetery. The family was assisted by the Schipper Funeral Home LTD. in Colon.