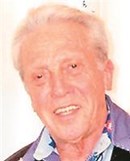 Otis M. Stahl, age 97, of Sturgis, passed away Wednesday morning, Sept. 19, 2018, at Bronson Methodist Hospital in Kalamazoo.
He was born Feb. 8, 1921, in LaGrange County, Ind., a son of the late Willis and Minnie (Weirick) Stahl.
Otis resided in Sturgis most of his life. He designed, built and lived in his current home since 1947.
On Oct. 2, 1945, he married Avis L. Kinsey in Sturgis. She died Feb. 3, 1989.
Otis had been employed as a mechanical engineer for Continental Accessories in Sturgis and also was a licensed general contractor.
He was proud to have served his country in the U.S. Army during World War II, earning the rank of PFC. He also served with the Civilian Conservation Corps #556. One of his involvements was the building of Pokagon State Park near Angola, Ind.
He was a member of Kingdom Hall of Jehovah's Witnesses and a life member of Neuman-Wenzel Post #73 American Legion. Otis enjoyed his sports car, singing karaoke and watching old Western movies, especially those starring John Wayne.
He is survived by three sons, Jerry (Janet) Stahl, Larry (Beatrice Ann Walls) Stahl and Martin (Kimberly) Stahl, all of Sturgis; three daughters, Sandra (Charles) Wooten, Cindy (Arthur) Krontz and Linda (Gary) Major, all of Sturgis; 11 grandchildren; 10 great-grandchildren; two sisters, Helen Salisbury of Kalamazoo and Jean Toth; two brothers, Ernest Stahl of South Bend, Ind., and Paul Toth of Alaska; and many nieces and nephews.
He was preceded in death by his parents; his wife; a grandson, Charles Allen Wooten; two sisters, Rebecca Pappas and Ruth Kelly; and three brothers, Thomas Toth, Carl Toth and Conrad Louis Sanderson.
The family will receive friends from 2-5 p.m. Sunday at Hackman Chapel of Hackman Family Funeral Homes, 114 S. Nottawa St., Sturgis. Funeral services will be held at 11 a.m. Monday at the funeral home. A graveside committal will follow the service at Oak Lawn Cemetery in Sturgis. Full military honors will be conferred by Capt. John J. Kelley Post #1355 VFW and the U.S. Army Honor Guard.
The family suggests those wishing to make a memorial donation in Mr. Stahl's memory consider Kingdom Hall of Jehovah's Witnesses, 69820 S. Nottawa Road, Sturgis, MI 49091.
His obituary is also at www.hackmanfamilyfuneralhomes.com, where personal messages of support may be left for the family.