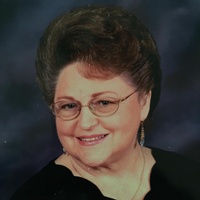 Patricia Jean Eby, age 78, of Coloma, formerly of Baldwin, passed into the arms of her Heavenly Father Sunday morning, September 16, 2018, at her residence in the comfort of her family's presence.
She was born December 13, 1939 in Elkhart, to Lewis and Martha Longcor.  She married David Mahlon Eby February 1, 1959 in Porter Township, Michigan.  After fifty-nine years of marriage, he preceded her in death less than two months earlier on July 20, 2018.
Patricia graduated from Constantine High School in 1957 and later Western Michigan University. She was a reading teacher in New Baltimore, Michigan and then a reading teacher and a substitute teacher at Baldwin Community Schools in Baldwin, Michigan for many years. David and Pat spent winters in Melbourne, Florida. Patricia, as well as David, was involved with jail ministry with Forgotten Man Ministries. She was involved in the Gideons Auxiliary and was a Den Mother in the Cub Scouts, rode motorcycles and snowmobiles around Lake County, was a vocalist in the CB3 (Chase Barton Trio) in the 70's and 80's and performed all over the state and even in Chicago.
Patricia will be greatly missed by family and friends. She is survived by one daughter, Pamela (Terry) McCoy of Coloma; one son, Douglas (Kimberley) Eby of Constantine; six grandchildren, Joshua (Ashley) Eby of Constantine, Michael Eby of Baldwin, Danielle (Trevin) Oswald of Constantine, Timothy (Veronica) Eby of Portage, Amanda (Joe) Weberling of Willis, Texas, Justin (Emily) McCoy of Dowagiac; three great-grandchildren, Alexander Eby, Emerson Eby, Mahlon Weberling; a sister in law, Carol Longcor of Amarillo, Texas; and a host of nieces, nephews, and cousins.  She was preceded in death by her parents, her husband of fifty-nine years, David Eby, and her brother, David Longcor.
Family and friends will gather Wednesday, September 19, 2018 from 5:00 p.m. until 7:00 p.m. at Connelly Chapel Wagner Family Funerals, 202 North Broadway Street, Cassopolis and on Thursday, September 20, from 11:00 a.m. until time of service at 12:00 p.m., also at the funeral home. Patricia will be laid to rest beside her beloved husband, David, in Plum Grove Cemetery in Union, Michigan.  The Pastor Mark Manning will be officiating.
The family prefers contributions in Patricia's memory be made to The Gideons, Post Office Box 97251, Washington D.C. 20090-7251 (www.gideons.org), or the Caring Circle Hospice, 4025 Health Park Lane, St. Joseph, Michigan 49085 (www.lakelandhealth.org/caring-circle).
Arrangements have been entrusted to Connelly Chapel Wagner Family Funerals, Cassopolis.  Please share a memory or a message online.